CyberPowerPC Zeus Mini System Review
Author:

Dennis Garcia
Published:
Monday, March 10, 2014

Conclusion
Choosing a new computer can be a difficult task and without a little help it may be difficult to determine what you really need. Most hardware enthusiasts will naturally gravitate to larger computers purely for the ability to upgrade. The interesting thing is with the Zeus Mini you can now have an ultra powerful gaming PC that is no larger than an old school VCR. (wait, what is a VCR?

)
In this review we looked at the new Zeus Mini from CyperPowerPC. As we mentioned this is a SFF gaming computer that breaks the stereotype when it comes to small computers. Our review sample is a fully equipped version with a watercooled Core i7 4770K and EVGA GTX 780 Super Clock sitting on a Gigabyte Z87N-Wifi motherboard. Despite the small form factor the CyberPowerPC case features a full sized PSU, comes with two 3.5" HDD bays and single slim drive DVD burner.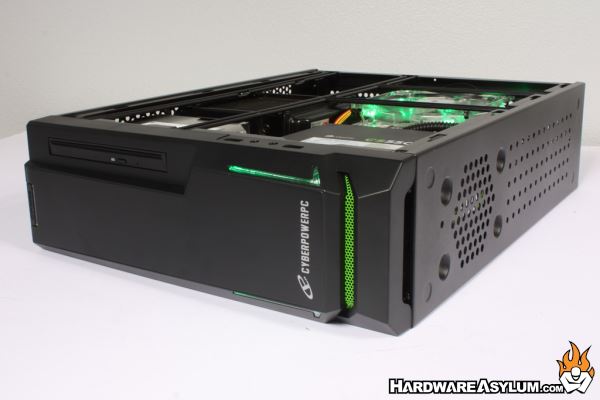 Cooling is handled mostly in a passive manner by drawing in cooler air in at the bottom of the case and allowing it to vent out the top. A single 120mm LED fan is used to cool the motherboard area and helps to keep the air circulating. Due to the small chassis design and MiniITX motherboard we wouldn't recommend overclocking your Zeus Mini but can attest that running the Core i7 4770K @ 4.3Ghz (and likely higher) is indeed possible and a great way to get some extra performance.
This is difficult for us to admit but, we really REALLY like the new Zeus Mini. The form factor is right and the hardware spec is perfect. Granted our system does have top of the line hardware but even with a lower end processor and mainstream video card you still have the makings of a perfect 24/7 machine. Plus it doesn't take up much room and is easily carried to LAN events. As hardware enthusiasts we all know the value of a system like this.
Good Things
Small Form Factor
Available in Red or Green
Choice of AMD or Intel Hardware
MiniITX Motherboard
Supports High-End Graphics
Quiet Operation
Lighted Chassis
Watercooling Available
Bad Things
Small chassis not OC friendly
System slides around in the stand, rubber feet needed
Hardware Asylum Rating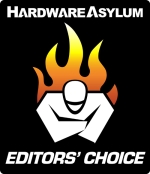 CyberPowerPC Zeus Mini System Review
Editors' Choice
https://www.hardwareasylum.com