CyberPowerPC Zeus EVO Lightning 2000 SE System Review
Author:

Dennis Garcia
Published:
Tuesday, September 03, 2013

Introduction
An interesting question we are often asked is "what makes a good gaming system?" As enthusiasts of computer hardware wel often gravitate towards the most powerful hardware, fastest processor and latest graphics card on the market. Heck, sometimes we put more than one in there just for kicks. Of course the reality is, you don't need all of that and provided that you have a fast subsystem and decent video card the rest will just fall in place.

In this review we'll be looking at one of the newest gaming systems from CyberPower PC called the Zeus EVO Lightning 2000 SE. As the "Zeus" name suggests this is a powerful gaming PC based on the latest AMD hardware including the HD7970 and FX 9590 eight core processor. The entire system is housed in a large CFI Borealight chassis and comes in at an amazing $2069 USD.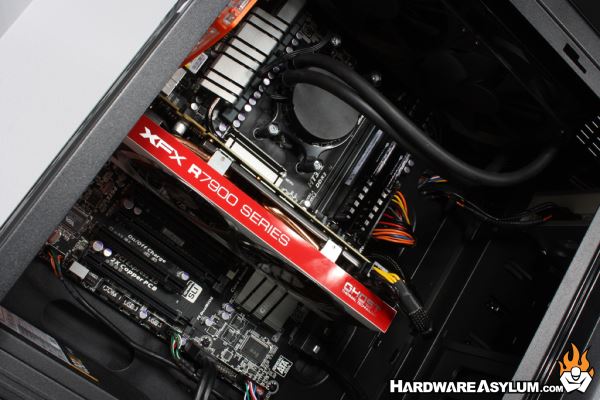 As with any computer build we should start with the specs.
Zeus EVO Lightning 2000 SE
AMD FX-9590 4.70 GHz
(5.0GHz Turbo)
Eight-Core AM3+ CPU 8MB L2 Cache & Turbo Core Technology
GIGABYTE GA-990FXA-UD3 AMD 990FX Socket AM3+ ATX Mainboard
Asetek 570LX Liquid Cooling system w/ 240MM Radiator and Dual Fans
16GB
(8GBx2)
DDR3/1600MHz Dual Channel Memory
AMD Radeon HD 7970 3GB 16X PCIe 3.0 Video Card
CFI Boreallight Full-Tower Gaming Case w/ 1x 140 & 2x 120mm Fans, Front USB 3.0, HDD Easy Swap Bays & Side-Panel Window
LG 12X Internal Blu-ray Drive & DVDRW, 3D Playback Combo Drive
(BLACK COLOR)
HDD: 128GB ADATA SP900 SATA-III 6.0Gb/s - 550 MB/s Read & 520 MB/s Write
1TBSATA-III 6.0Gb/s 64MB Cache 7200RPM HDD
Microsoft® Windows 8
(64-bit Edition)
There are hundreds of things to consider when building a machine from your processor choices down to what fans you put in the door. Because of this we won't criticize too much on the overall configuration of the review model but will mention the total system is just a starting point. When you
visit Cyberpower PC
one of the first things you will see after selecting the base model is the system configurator. From here you are allowed to change almost anything about the build from the chassis type to the cooling method. You can even choose to have them apply a factory overclock, custom watercooling, laser etching and custom audio.