CyberPowerPC Zeus EVO Lightning 2000 SE System Review
Author:

Dennis Garcia
Published:
Tuesday, September 03, 2013

Conclusion
Choosing a new computer can be a difficult task and without a little help it may be hard to determine what you really need in a system. Pre-configured systems like what is available at CyberPower PC can help take out some of the guess work and give you a solid starting point for getting exactly what you need. In this review we looked at the Cyberpower PC Zeus EVO Lightning 2000 SE. This is an AMD FX based gaming computer using the latest FX 9590 5Ghz (Turbo) 8-core processor and AMD HD 7970 graphics card.

The system was assembled extremely well and with a good combination of mainstream components like the Gigabyte GA-990FXA-UD3 motherboard, Corsair memory and power supply. CyberpowerPC has included an overclocked XFX HD7970 in our review system which delivers better than expected performance and keeps everything AMD centric. You will find that this system comes with an Asetek 570XL with a dual fan 240mm radiator, this is not by accident but rather a requirement to keep the monster FX cool. Despite the dual fan radiator option the system ran extremely quiet and only spun the fans up during our 3DMark physics tests while we stressed the processor. Under normal operation the system ran quieter than expected, especially given the 3x 120mm exhaust fans and single 140mm intake.

Our only real disappointment is with the FX processor performance, you would think an 8 core monster running at 5Ghz would deliver some serious performance but falls short of what Intel has to offer. There are a few positives, multi threaded applications run extremely well on the FX 9590 and all modern DirectX 11 games depend largely on the speed and quality of your video card. Given the included AMD HD 7970 and option for up to three in this system we feel you have very little to worry about.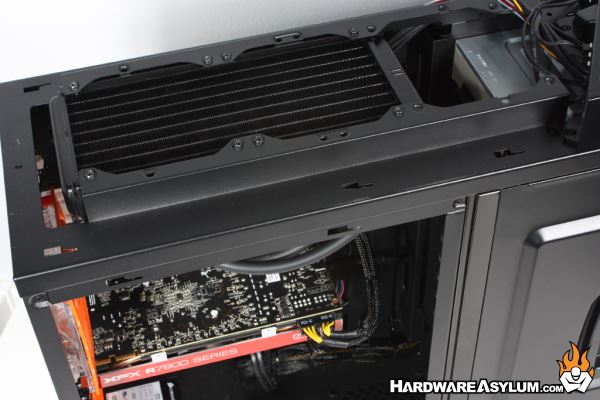 As we mentioned pre-configured systems from CyberPower PC are a great starting point and when you place your order you have the option to change what components are included. Considering the entire system there are a few things we would change, which are really just personal preferences.

The first would be the watercooling unit. There are currently 14 different cooling options available through CyberpowerPC that range from AMD certified up to a custom water loop with a triple fan radiator and larger hoses. Our review system came with a midrange cooling option using Asetek internals with a 240mm radiator. We were very pleased with the performance and wouldn't recommend any change unless you went with to a custom water loop. This will give you the best thermal performance and allows for more overclocking options.

Our second upgrade would be the memory. By default the Zeus EVO Lightning comes with 1866Mhz DDR3 and we would recommend getting 2133Mhz memory for the best performance. The final upgrade is optional for the casual gamer but would be the video card either by adding a secondary HD 7970 or swapping it for a nVidia branded GPU like the GTX 780. Of course all of these recommendations bring the total system cost up but go a long way to enhance overall system performance.

The Cyberpower PC Zeus EVO Lightning 2000 SE comes with a full version of Windows 8 x64 pre-installed with all of the latest drivers configured and ready to go. We didn't find any bloatware on the system and after a short setup period we were ready to go.
Good Things
8-Core AMD FX Processor
5GHz Core Clock
AMD Centric System
Great CFI Borealight Chassis
128GB SSD
Dual Fan Watercooler
Bad Things
FX processor performance
Would rather see ROG or UD7 based motherboard with FX 9590
Ninjalane Rating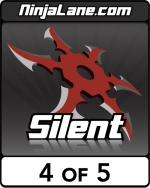 CyberPowerPC Zeus EVO Lightning 2000 SE System Review
Silent 4 of 5
https://www.hardwareasylum.com