CyberpowerPC SYBER Gaming Windows Console Review
Author:

Dennis Garcia
Published:
Thursday, December 11, 2014

Introduction
XBone got you down? Is the PS4 just too "Sony" for you? Do you long for the days when you can play steam games on your big screen? Fear not SYBER Gaming has you covered.
In this review we will be looking at Windows based gaming console from SYBER Gaming called the Vapor A. One of the highlights of CES 2014 was the rumored release of Valve SteamOS and plenty of system builders had systems on display to support Steam gaming in the living room. Many builders adopted the term Steam Machine or Steam Box for this concept and offered up a variety of different system configurations ranging from portable LAN style systems to sleek machines that looked like a home built HTPC.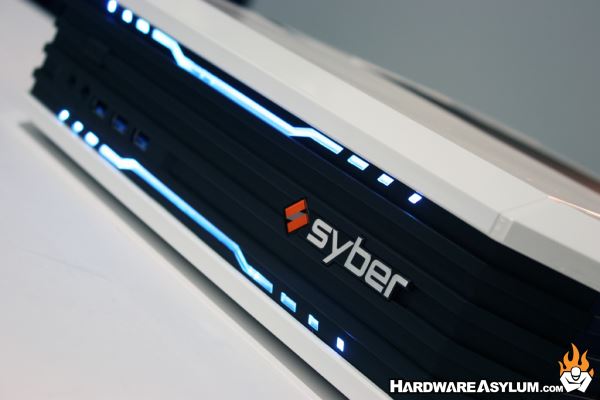 Of course the SteamOS concept brought with it plenty of confusion as to what exactly constitutes a Steam Machine vs a HTPC. Even more so where to draw the line when it comes to system builds and included hardware. CyberPowerPC, the makers of the Vapor gaming console, took the approach that while SteamOS might sound good on paper the company builds Windows gaming computers and liked the idea of building a Windows gaming console.
The Vapor is a unique gaming computer designed for the living room. It is small, stylish and a perfect complement to what could have been a top notch Steam Machine. Measuring in at 351 x 345 x 98.5mm the Vapor is slightly larger than an XBOX and yet compact enough to fit alongside a standard bluray player or DVR. In terms of hardware the SYBER Gaming Vapor is available in three basic configurations.
Vapor A – AMD FM2+ based system matched with an AMD Radeon R9 270 and 500GB hard drive.
Vapor I – Intel Core i3 based system matched with an NVIDIA GTX 750Ti and 1TB hard drive.
Vapor X – Intel Core i7 (Devils Canyon) based system matched with an NVIDIA GTCX 980 and 1TB hard drive.
Each system is built OEM style with a set configuration of parts. However, like any CyberPowerPC computer if you know where to go you can tweak a few things.
Specifications
Syber Vapor While PC Gaming Chassis
AMD Radeon R9 270 2GB GDDR5
AMD Athlon X4 840 3.1Ghz Quad Core
MSI A88XI AC FM2+ mITX, AC Wi-Fi 802.11+Bluetooth
500GB SATA-III 6.0Gb/s 16MB Cache 7200RPM HDD
4GB DDR3 1600Mhz
Silverstone ST30SF 300W SFX12v 80Plus Bronze Power Supply
Microsoft® Windows 8.1 (64-bit Edition)
Mini Wireless Keyboard
Logitech F710 Gamepad
Each system is priced according to the hardware and they start at $599.99, like the one featured in this review.