EVGA GTX 980 Classified Video Card Review
Author:

Dennis Garcia
Published:
Saturday, November 22, 2014

Conclusion
Overclocking is a big part of the enthusiast community so we tend to look for special products designed to help us reach our goals without having to resort to extensive board modifications. The EVGA GTX 980 Classified is clearly a video card designed for hardware enthusiasts looking to get the most from their system and delivers on that promise. We have already seen some extreme overclocking scores that have once again pushed EVGA to the top of the leaderboards.

When comparing the 980 Classified to the other EVGA video cards you may wonder exactly what the difference is and why you would purchase one card over another. The answer is in the hardware. SuperClocked edition cards are factory overclocked and deliver amazing performance but are designed for gamers who may never tweak anything beyond the factory settings. These reference cards also come with hardware limits that the 980 Classified is designed to surpass. This is one reason why it comes with triple BIOS chips, a 14-phase VRM and larger ACX 2,0 cooling solution.
We have posted a photo showing the new fan blade design of the ACX 2.0 cooler. The primary differnce is that the blades seem to be reversed and instead of cupping the air at the middle the fans seem to push it to the outside. This simple change seems to have made the fans more efficent however some may argue that the lower power Maxwell GPU simply allowed them to use a quieter fan design. Still, cranking the ACX 2.0 fans up to 100% moves a great deal of air and reminds you why you have one of the best card coolers on the market.
During our testing the card ran extremely well and posted some impressive benchmark scores. From a hardware standpoint the GTX 980 is designed to be a power efficient GPU while our reference card, the GTX 780 Ti Classified, was configured as a powerhouse. The GTX 980 comes with a higher clockspeed while the GTX 780 Ti has more CUDA cores. This juxtaposition resulted in higher benchmark scores for the GTX 980 and near identical cores in our gaming tests. Not always a bad thing just depends on what is important to you.
What really impressed us was the level of overclocking performance we got from simply adjusting clock frequencies using EVGA PrecisionX. The average OC using the included BIOS was around 1555Mhz core and 2000Mhz mem. Neither clock required any voltage changes and worked under the default fan profile. This overclock was what we deemed stable in our benchmarking suite and was also pushing the limit of the 125% power target. Of course we wanted more so after flashing a custom BIOS image and tried pushing the card a little further.
Our highest overclock was 1605Mhz core with a 2100Mhz memory speed. This is over 314Mhz above the factory overclock and sadly wasn't stable enough to complete our benchmark suite. Keep in mind the 1605Mhz core frequency is actually the calculated Boost clock frequency and the prize for having an excellent aircooler.
Good Things
Low Power Consumption
Large 14-phase PWM
Great Looking ACX 2.0 Cooler
GPU Boost 2.0
Quiet Operation
Excellent Overclocking (1555Mhz/2000Mhz on Air)
Triple BIOS
Extensive Voltage Control
Community Support
Bad Things
Test leads not included
Backplate must be purchased separately
EVBot still required?
Hardware Asylum Rating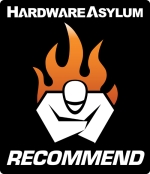 EVGA GTX 980 Classified Video Card Review
Recommend
https://www.hardwareasylum.com