EVGA GTX 1070 SC2 with iCX Technology Review
Author:

Dennis Garcia
Published:
Monday, March 06, 2017

Introduction
If I was to name one thing in a modern PC that has changed the way we use computers it would be the video card. Storage and CPUs have paved the way to enabling PCs to do more but the video card is what shows us the results of our hard work. Thing is video cards are damn simple devices with a dedicated video processor, some memory and a power supply. All of that fits as an expansion card in your PC.
Over the years graphic processing units (GPU)s have increased in power requiring larger and more advanced power supplies and cooling systems and how those components go together define the custom GPU market.
In this review I'll be looking at the new iCX Technology from EVGA. iCX Technology is more than just a cooler and can be applied to any EVGA video card like the GTX 1070 SC2 (SuperClocked 2) featured in this review. We will be using this card to test the iCX Technology however, we have all seen how the GTX 1070 performs so consider this review to be an explanation on how iCX works and why you may consider it for your next purchase.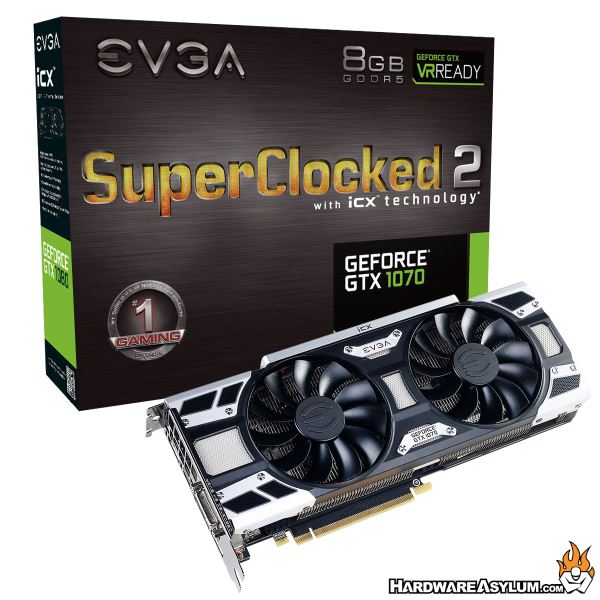 iCX was first announced at CES 2017 and at the time was billed as a next generation cooling technology for EVGA video cards. iCX was official released early in February 2017 and encompasses a major revision in how video cards are cooled with the addition of nine new temperature sensors on the video card making a total of ten when you consider the GPU. iCX also includes a new cooler design, new heatspreader and an improved backplate.
Strangely enough iCX also includes some lesser known features including RGB LEDs in the fan shroud, Asynchronous Fans and a Safety fuse to protect components from damage due to improper installation of other component failures.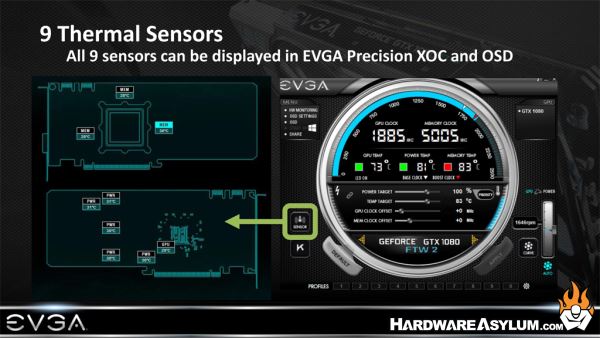 The GPU used on the card is identical to any other GTX 1070 so in terms of performance any iCX Technology enabled video card will offer the same performance as an ACX 3.0 video card. The only real difference is how the card will respond to different thermal loads provided that you are using the included aircooler and heatspreaders.
So, in other words, if you buy an iCX Technology enabled video card and rip off the aircooler to install a waterblock you are throwing away a good majority of what makes iCX special and a primary reason for why it was created.