Gigabyte GTX670 OC Video Card Review
Author:

Dennis Garcia
Published:
Thursday, May 10, 2012

Introduction
A little over a month ago we witnessed the birth of the next generation in gaming GPU called the GTX 680. The response to the new GPU was overwhelmingly positive and hardware enthusiasts flocked to get one wherever they could. Of course the new GPU was designed for gamers and proved to be the most powerful single chip you could buy. Overclockers also enjoyed the new platform showing that with the right power delivery and cooling you could a few select GTX 680's with a 2Ghz core clock.

In this review we will be looking at a new video card from Gigabyte called the GV-N670OC-2GD. This card features the new Nvidia GTX 670 Kepler based GPU and comes with a respectable factory overclock and custom Windforce cooling solution to improve overall performance.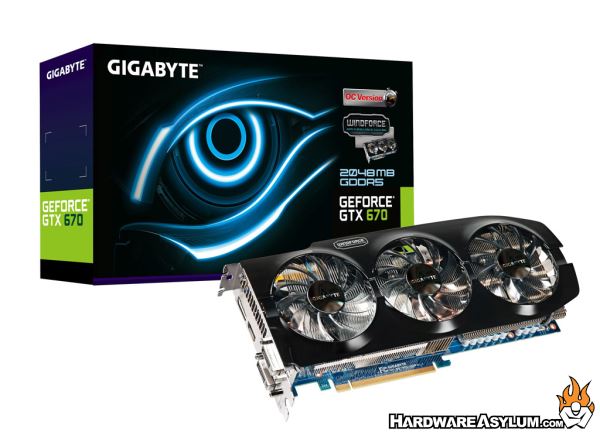 Specifications
Graphics Processing Clusters 4
SMXs 7
CUDA Cores 1344
Texture Units 112
ROP Units 32
Base Clock 980 MHz
Boost Clock 1059 MHz
Memory Clock 6008 MHz
L2 Cache Size 512KB
Total Video Memory 2048MB
Memory Interface 256-bit
Fabrication Process 28 nm
Thermal Design Power (TDP) 170 watts

The GTX 670 is basically a cut down version of the GTX 680 with a few less CUDA cores but features all the same technologies found in the GTX 680 including GPU Boost and single card surround gaming.