Gigabyte GTX 1060 Xtreme Gaming 6GB Video Card Review
Author:

Dennis Garcia
Published:
Thursday, October 13, 2016

Conclusion
In this review I looked at the Gigabyte GTX 1060 Xtreme Gaming G6 video card. This is a custom video card using a modified PCB and custom triple slot Windforce 2X cooling solution. Long time readers of Hardware Asylum will know I tend to favor hot clocked and factory overclocked video cards over reference designs and this card comes with two overclock settings. The factory overclock is 1620Mhz with a boost clock around 1850Mhz. Using the Gigabyte software you can change this to OC mod which increases the core clock to 1645Mhz with a boost clock of 1873Mhz.
Of course overclocking this card manually will always render more performance however, the factory overclock settings are not only stable but also supported under the factory warranty.
Overall the GTX 1060 Xtreme Gaming performed extremely well and held its own against our reference GTX 1060. I cannot say it was any faster than a GTX 980 but, if FireStrike Extreme is any indication it is pretty darn close and for around $299 USD there is no reason to complain.
There are several advantages associated with custom coolers most notable being better cooling. That isn't to say the stock NVidia cooler is bad but rather that custom designs usually improve on the design and add something special and unique. For instance the Windforce 2X features dual cooling fans and large copper cold plate help to increase overall thermal capacity and work better to transfer heat to the triple heatpipe cooling solution.
Maybe one of the biggest disappointments with the GTX 1060 in general is the lack of SLI support. When SLI was announced it was marketed as a budget friendly upgrade path that would allow gamers to buy one card now and upgrade to a second card later. Given the lack of SLI fingers on the GTX 1060 it would seem that NVidia is now forcing users to buy the higher end GPUs just to have the option despite being better served by the midrange market.
In a way Gigabyte is making up for this oversight by including an innovative solution to the problem of VR flexibility by including two additional native HDMI ports on the GTX 1060 Xtreme Gaming allowing users to connect more devices and have more fun.
Overclocking performance was better than expected. I used the familiar EVGA Precision to overclock this video card and was able to get the card to run at 2138Mhz core with a maximum clock being recorded at 2190Mhz. While the resulting number is quite impressive it was done using the Boost 3.0 technology which is unpredictable at best and depending on the benchmark and power draw the clockspeed can vary a good 100Mhz, usually down. Still, anything over 2100Mhz is good when dealing with Pascal so I'll take it.
Good Things
Triple Slot Windforce 2X Heatsink
Excellent Overclocking
Included Backplate
RGB Lighting
Xtreme VR Link
Bad Things
No SLI support
Triple slot cooler
Hardware Asylum Rating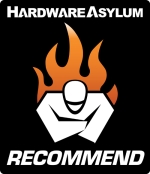 Gigabyte GTX 1060 Xtreme Gaming 6GB Video Card Review
Recommend
https://www.hardwareasylum.com