Gigabyte GTX 1060 Xtreme Gaming 6GB Video Card Review
Author:

Dennis Garcia
Published:
Thursday, October 13, 2016

Card Layout and Features
Gigabyte rarely releases a video card without including some sort of custom cooler and this card is no exception. The 1060 Xtreme Gaming comes fitted with the Windforce 2X dual fan heatsink featuring triple slot width and a white and black color scheme. The fans feature the Windforce blade design for better airflow and if you look carefully you will notice that they do not spin in the same direction.
This is done to reduce air turbulence and improve cooling.
Flipping the card around you will find a very plain aluminum backplate to help protect and reinforce the PCB. It also helps to remove excess heat and generally looks cool. It does feature a large Gigabyte Xtreme Gaming logo to help you show off at LAN parties.
Video output is comprised of a single DVI-D video output combined with a three Display Port connections and a single standard HDMI. These connections are pretty standard across all Pascal based graphics cards and allow you flexibility in how you connect displays and/or a VR Headset.
Speaking of VR headsets the GTX 1060 Xtreme Gaming card comes with two additional native HDMI ports at the back of the card. These will be primarily for VR headsets allowing you to increase the number of connected devices.
RGB lighting effects have become very popular over the past year and the Gigabyte GTX 1060 Xtreme Gaming Windforce 2X cooler feature a variety of RGB lights across the top edge of the cooler and large X logo between the fans. These will cycle through the RGB spectrum and include a variety of patterns including Cycling, Breathing, Flash, Dual Flash, and Consistent.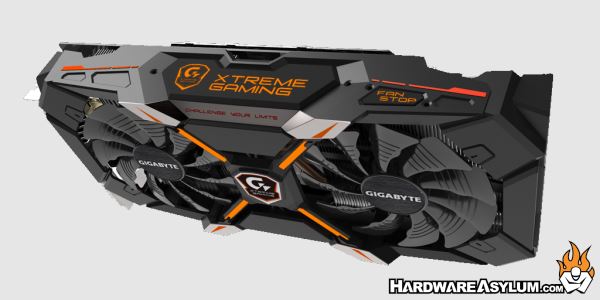 The "Fan Stop" light will mimic the color pattern and is the only light on the card that turns off when the fans are active.
Power is comprised of a single 8pin PCI Express power connector and you will find no SLI fingers on the PCB. Yes, it is a sad day when a correctly priced mid-range graphics card doesn't feature that one technology marketed as a future proof upgrade path for gamers on a budget. Keep in mind the lack of SLI is across all GTX 1060's so we can blame NVidia for that one.