Nvidia GeForce GTX Titan Video Card Preview
Author:

Dennis Garcia
Published:
Tuesday, February 19, 2013

GTX Titan Technologies
GTX Titan is using the same GPU found in the Nvidia Tesla K20 and is based on the Kepler architecture. Looking at the specs on the previous page you'll notice several similarities. For instance if you compare it to the GTX 680 you'll find that Titan comes with one extra processing cluster and a total of 14 SMX units over the eight found in the GTX 680. Of course the biggest change is the number of CUDA cores.

The Kepler architecture created a grouping called Streaming Multiprocessors (SMX) and each SMX contained 192 CUDA cores. There were eight of these SMX units in the GTX 680 and lower end versions were created by disabling some of them. GTX Titan features 14 of these SMX units for a grand total of 2688 CUDA cores and some insane processing power.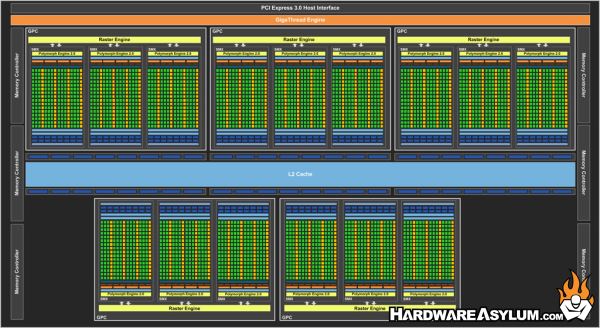 As we know game performance isn't won by who has the fastest GPU but rather who has the best match for their particular game title. Some games like faster GPUs whereas others run better with more texture memory. To ensure the best performance for current and future games the GTX Titan comes with 6GB of GDDR5 texture memory and a 384-bit memory interface. This ensures those large textures can be accessed quickly.

New Technologies
We already talked about the faster SMX core design however what wasn't mentioned is that not only is the SMX faster but it is still providing a 2x performance/watt gain over the previous generation.

Current GTX 680 GPUs have taken advantage of the 195w TDP but, what happens when you double the SMX count. Despite the extra bulk the GTX Titan GPU stays within a respectiable 250w TDP and is only 5w hotter than the famous GTX 580.

GTX Titan will require a 600w+ PSU to run and even more power when more than one card is added to a system.