PowerColor Red Devil Radeon RX 580 Video Card Review
Author:

Dennis Garcia
Published:
Wednesday, May 31, 2017

Conclusion
In this review we looked at the new PowerColor Radeon RX 580 Red Devil. This is a card based on the revised Polaris GPU architecture that was first introduced with the RX 400 series. The RX 500 series uses the same basic chip but has increased the clock speed for better performance and PowerColor has matched that upgrade with a custom PCB and Red Devil packaging. Long time readers of Hardware Asylum will know I tend to favor hot clocked and factory overclocked video cards because of the wide range of performance potential and while every card has a different story to tell the "Devil" series holds a special place in my enthusiast heart.
Overall the Red Devil RX 580 performed as you would expect. It is faster than a RX 570 and in some cases can best a high-end Sapphire R9 Fury and GTX 1060. An important thing to note is that the Red Devil RX 580 does come with 8GB of GDDR5 memory making it a good solution for those running 4K and planning to do VR. The extra frame buffer will help increase framerate and prevent lag while textures are buffering.
There are several advantages associated with custom coolers most notable being better cooling efficiency. The "Devil" series of graphic cards all feature an oversized cooling solution which may include a taller dual fan unit like on the Red Devil RX 580 or shorter triple fan cooler like what you would find on the RX 570. The major difference is the height of the card which can give you slightly more surface area and ability to use larger heatpipes.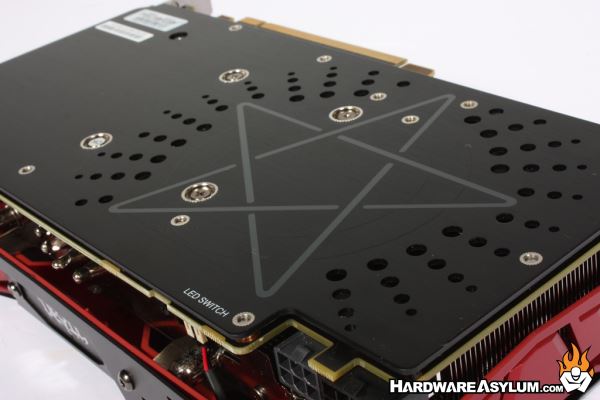 The cooler is divided up into three parts allowing all of the major components to be cooled and handle their thermal loads differently. Of course, the GPU will get priority cooling with direct access to the heatpipes while memory is handled by a separated heat spreader while the VRM is temperature balanced with the GPU.
Overclocking performance was not what I was expecting. Of course the card comes factory overclocked with a core speed of 1380Mhz up from the factory 1245Mhz with a 1340Mhz boost. What I found disappointing was 40Mhz factory overclock and only 40Mhz of overclocking headroom. Small gains really do have a profound impact but in this case the only thing that really helped was increasing memory frequency by 200Mhz but, only in certain situations. While the resulting overclock was impressive it didn't translate into a noticeable boost in game performance but did help our synthetic benchmarks.
Despite lower than expected overclocking I really do like this card, The design is spot on and out of box performance is right where it should be. Provided you can live without RGB LEDs and don't mind sourcing your own overclocking tools the RX 580 Red Devil is a perfect addition to any mid-range gaming PC.
Good Things
Oversized Dual Fan Heatsink
Red Devil Design
Included Backplate
Dual BIOS
Oversized PCB Design
Bad Things
Lackluster overclocking
No performance software
Hardware Asylum Rating