PowerColor Red Devil Radeon RX 580 Video Card Review
Author:

Dennis Garcia
Published:
Wednesday, May 31, 2017

Introduction
One of the premier video cards that we talk about quite often on the Hardware Asylum Podcast is the Devil 13 from PowerColor. The Devil 13 is a PowerColor brand associated with their high-end dual GPU graphics cards which come factory overclocked and the promise of big numbers due to the power of CrossFire.
Of course while the Devil 13 has always been a limited edition design priced around $1000 USD there is another card in the lineup that is a little more budget friendly. The Devil or Red Devil share many of the same design queues of the larger Devil 13 such as a large dual fan cooler, branding graphics and color combinations. They even come factory overclocked for that extra bit of awesome.
In this review I'll be looking at the PowerColor Red Devil Radeon RX 580. This is a card built on the RX 580 GPU and comes with 8GB of GDDR5 memory. The PCB is oversized and features a very large and well built cooler.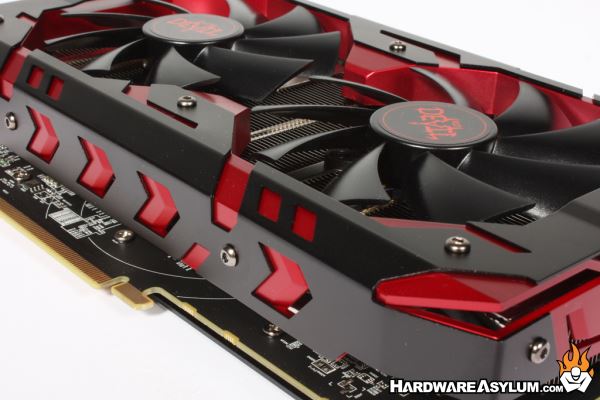 The Devil line of graphics cards have enjoyed a cult following with enthusiasts due to some very creative marketing, outlandish pricetags and amazing designs. We talk about them a lot on the podcast because of this and even though they may not be the best cards out there they have the best story to tell.
Up until now I have enjoyed the Devil cards from a distance learning what I could from the photos and trusting the reviews from whoever was lucky enough to get one. With this review I am breaking that trend and getting an up close look at a PowerColor Red Devil which has expanded to include a variety of different versions from a Red Devil Golden Sample RX 580 with a 1425Mhz core clock down to RX 570 Red Devil with triple fan coolers and 1370Mhz core clock.
While the illusive Devil 13 might be waiting for Vega we can enjoy some midrange performance and see what makes the PowerColor Red Devil RX 580 special.