The 4 Best X79 Motherboards - You will never see
Author:

Dennis Garcia
Published:
Wednesday, September 12, 2012

Gigabyte X79-UD7 OC
Enthusiasts know that orange and black were the popular DFI LanParty motherboard colors using Intel chipsets. It would seem that Gigabyte has decided to build on that legacy and pay their homage to the overclocking specific motherboard by using the same color scheme.

Gigabyte was the first mfg to send me an X79 motherboard and I am proud to say the OC was the board I got.

The main purpose of the UD7 OC was to enable extreme overclocking on the LGA2011 platform at the CPU and video card level. Looking at the motherboard you will notice a classic PCI Express layout that supports 4-Way SLI/Crossfire and does so with allowance for dual slot coolers. When running 2-Way SLI you will get triple slot spacing and plenty of room for extra large LN2 containers.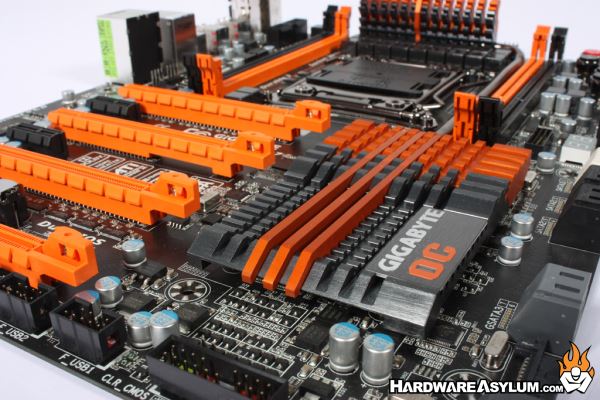 In terms of PCB size the UD7 OC is an XL-ATX form factor making it better suited for the test bench than inside of a case. The board isn't as tall or wide as the MSI Big Bang XPower II but will cause you some headache if your chassis isn't big enough to accommodate.

Near the top of the motherboard you will find familiar hardware based overclocking controls for BCLK and multiplier adjustments. Voltage test points are located nearby with provisions for meter leads and surface test pads. The motherboard features a dual mode 18 phase PWM located across the top of the motherboard along with a rather small PWM cooler that is heatpipe connected with the larger South Bridge heatsink.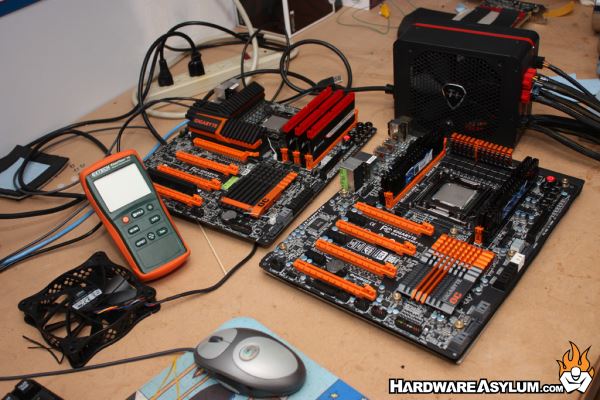 Gigabyte has been famous for their "Limited Edition" motherboards making what product does get out the consumer an instant collector's item. While I can understand the marketing drive behind this I'm not sure it really does much to better the enthusiast community and may even drive those would be buyers to another brand. Case in point when I first got the UD7 OC a dead 3980X processor forced me to send this rare motherboard back to the factory paving the way for the
X79-UD3 to be the first X79 motherboard that I reviewed
.
As it would turn out the motherboard was so rare that I almost didn't get a replacement, and when I did I was told to not worry about doing a review since it was no longer in production or being sold.
Talk about a 4 month product life cycle.