The 4 Best X79 Motherboards - You will never see
Author:

Dennis Garcia
Published:
Wednesday, September 12, 2012

Asus Rampage IV Extreme
In contrast to the previous three motherboards discussed in this article the Rampage IV Extreme is designed to be a mainstream product and also setup to encompass everything Asus has to offer when it comes to a high-end enthusiast motherboard.

Asus claims that the R4E motherboard is an Extended ATX form factor however due to the extended width and standard ATX height the board falls into the SSI CEB specification. In terms of layout the board features the standard seven expansion slots and 4-Way SLI/Crossfire configuration.

All of that is pretty amazing since the compact layout means you can use this board in "almost" any standard chassis including some of the more compact ones designed for LAN Parties.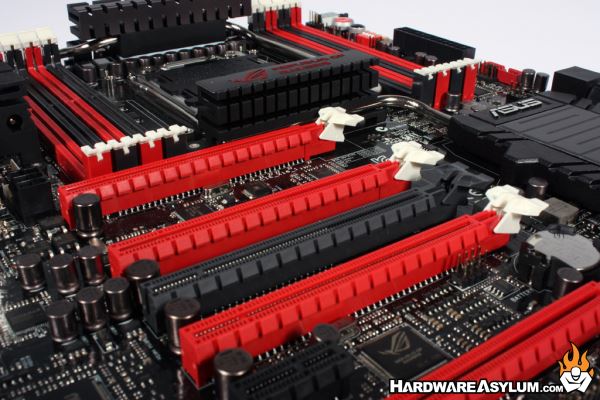 The PWM is smaller than you would expect for a high-end motherboard with only 8 phases dedicated to the CPU. A smaller PWM usually means there is less to cool but you wouldn't know it by looking. There are a total of four heatsinks on the R4E which are all heatpipe connected to a larger active South Bridge cooler. Given the importance to keep the PWM cool and how little air circulates around the motherboard a small fan here helps out in a big way.
The Rampage IV Extreme isn't all about gaming but about providing a platform to support all of the major enthusiast disciplines. Overclockers will like the board because of the extensive online support and included tools like ROG Connect. Hardware enthusiasts are often drawn to the color scheme but will also like the smaller SSI CEB form factor since the board will fit in smaller cases with fewer modifications. Lastly with a name like Republic of Gamers (ROG) you know gamers will be drawn to the multi GPU configurations with triple slot video card support (found mostly on Asus branded video cards.)

You will not find hardware based overclocking controls on the R4E but will find PCI Express disable switches and voltage test points similar to what is on the Gigabyte X79-UD7 OC. As an overclocker I do like having hardware based overclocking controls but experience has taught me that controlling the motherboard over ROG connect is far more versatile and allows you to see the clocks change instead of clicking a button and hoping it changed the right thing.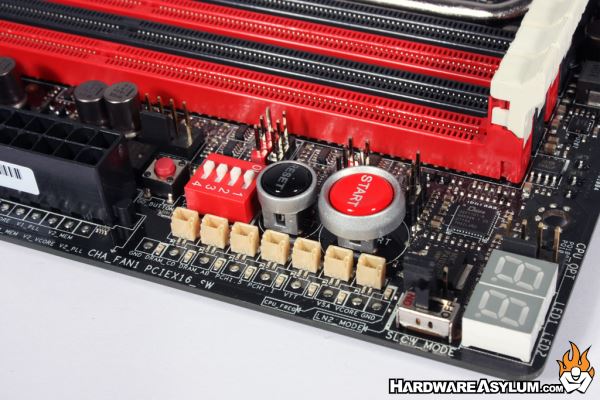 One thing that has made Asus synonymous with overclockers and hardware enthusiasts is that you can actually buy the motherboard at any time during the product cycle. The only downside, you're going to pay for the privilege to do so.