The 4 Best X79 Motherboards - You will never see
Author:

Dennis Garcia
Published:
Wednesday, September 12, 2012

Foxconn Quantum Force Quantumian-1
This was one of the first X79 motherboards I had received and was sent with the express recommendation to "Try it out and let us know what you think but don't worry about doing a review". After looking into it more I discovered that this board was only going to be sold in the APAC region (Asia / Pacific) and explained why they didn't need any reviews from US based media.

In terms of hardware the Quantumian-1 is perfect on paper as it comes with 14 power phases, 10 phases are dedicated to the CPU with the remaining 4 allocated to memory and VTT. The motherboard does support up to 32GB of memory across 4 dimms and at speeds up to 2400Mhz. Aside from the limited number of memory slots the board and power specs are typical of a mainstream X79 motherboard.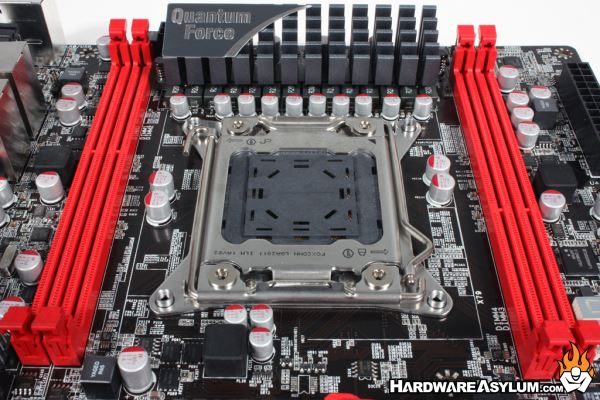 The board also features hardware based overclocking buttons and voltage test points. These are often used to help extreme overclockers troubleshoot issues during a benchmark but can also provide a little transparency to how the motherboard works.

Quantumian-1 is the only board in this roundup that doesn't advertise 4-Way SLI/Crossfire support but instead supports 3-Way setups out of the box with the intent to fully support 2-Way SLI when installed in a standard ATX chassis. The Foxconn designers wanted this motherboard to appeal to the mainstream market and were looking for a low cost and compact X79 motherboard for the casual gamer and overclocker. If you were looking for its closest competition the
Asus P9X79 would be a good match
.
Foxconn worked hard to get the Quantumian-1 into the retail channels and decided to limit the release to their strongest market, APAC. There is no telling how this board would have done in the US market however given the looks, features, shoddy UEFI and Foxconn's tendency for limited availability I don't suspect it would have been high on the enthusiast radar.
Sadly this might very well be the last Quantum Force motherboard ever produced by Foxconn, for themselves, citing low margins and the increased difficulty to market in the enthusiast space. It was a good run for them with the high point in their career centered with the
X48 BlackOps
and
X58 BloodRage
.