Cooler Master TD500 Mesh Case Review
Author:

Dennis Garcia
Published:
Tuesday, December 1, 2020

Introduction
With the large number of computer cases on the market I get asked all the time, what case should I buy? While I can spout off a number of my favorites I often tell people to figure out your budget and find something you like. YouTube channels will argue with me claiming that airflow is the only thing that matters and even rip on case makers for breaking the rules. However, as a casemodder I know you can fix airflow issues, you can fix style issues and while you can make a case smaller it is difficult to go the other way.
In this review I'll be looking over the Cooler Master TD500 Mesh which is a traditional case design offering just the right amount of everything.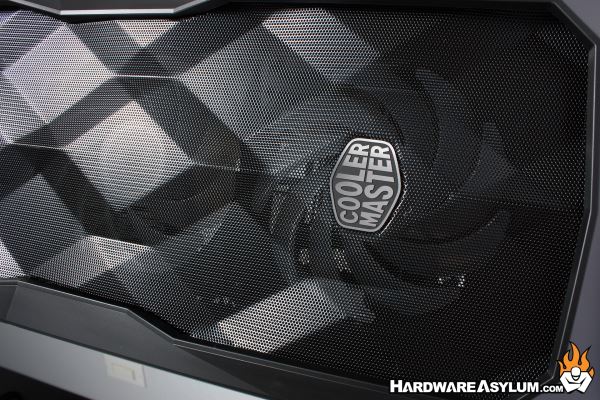 This case is very traditional offering that comes with a standard set of cooling fans across the front, allocations for fans at the top and the typical single exhaust opening in the back. The case is not too wide, not too tall and actually looks pretty good from a distance.
Lets dive in and take a closer look.
Specifications
Model Number: MCB-D500D-KGNN-S01, MCB-D500D-KGNN-S00, MCB-D500D-WGNN-S01, MCB-D500D-WGNN-S00
Series: MasterBox Series
Size: Mid Tower
Available Color(s): Black, White
Materials: Steel, Plastic, Tempered Glass, Mesh
Dimensions (L x W x H): 493 x 217 x 469mm (incl. Protrusions), 429.5 x 205x 447mm (excl. Protrusions)
Weight: 6.95 kg
Motherboard Support: Mini ITX, Micro ATX, ATX, SSI CEB, E-ATX*, (*support for up to 12" x 10.7", will limit cable management features)
Expansion Slots: 7
5.25" Drive Bays: N/A
2.5" / 3.5" Drive Bays (combo): 2
2.5" Drive Bays: 4 (2+2 combo)
I/O Panel: 2x USB 3.2 Gen 1 (formerly USB 3.0), 1x 3.5mm Audio Jack, 1x 3.5mm Mic Jack, 1x ARGB Controller (only for the S01 versions), 1x ARGB 2-to-3 splitter
Pre-installed Fans - Top: N/A
Pre-installed Fans - Front: 3x 120mm ARGB Fans
Pre-installed Fans - Rear: N/A
Fan Support - Top: 3x 120mm, 2x 140mm
Fan Support - Front: 3x 120mm, 2x 140mm
Fan Support - Rear: 1x 120mm
Radiator Support - Top: 120mm, 240mm, 360mm, (44mm max motherboard component height)
Radiator Support - Front: 120mm, 140mm, 240mm, 280mm, 360mm
Radiator Support - Rear: 120mm
Clearance - CPU Cooler: 165mm/6.49"
Clearance - PSU: 180mm/7.08", 295mm/11.61" (w/ HDD cage removed)
Clearance - GFX: 410mm/16.1"
Cable Routing: 19mm/0.74"
Dust Filters: Top, Bottom, Front
Power Supply Support: Bottom mount, ATX
Warranty: 2 years