Cooler Master TD500 Mesh Case Review
Author:

Dennis Garcia
Published:
Tuesday, December 1, 2020

Case Layout and Features
Cooler Master went all out when it came to the design of the TD500 Mesh. The Mesh name appears to be a call out to the front bezel material designed for maximum airflow. Overall the case features a faceted design that correlates the diamond shapes on the front bezel with crystalline cuts in the tempered glass. Together these provide an excellent visual to a panel that would otherwise be flat and shiny.
On a side note, the reflected bookshelf in the photo happens to line up perfectly with the case.
Turning the case around reveals a completely flat back panel with two thumb screws and built in handle for panel removal. You'll find ample venting both in the elongated 120mm fan location, expansion slot covers and panel area.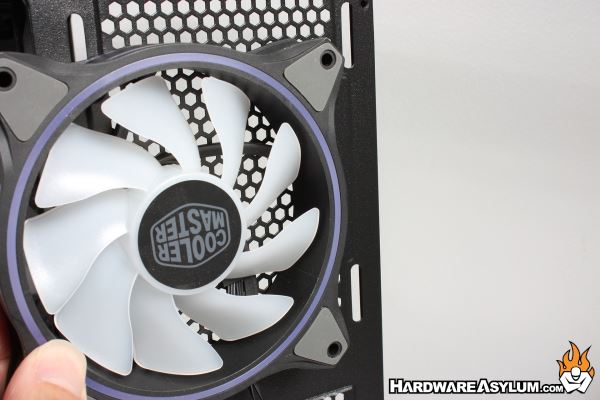 Visually the exhaust fan location looked small to me but did check out to be 120mm wide and allows the fan to slide up and down about an inch to better match your fan and radiator combo.
The front panel controls feature two USB 3.0 ports, large power button in the shape of the Cooler Master logo, analog connections for mic and headphones along with a small reset button.
One nice thing about the crystalline cuts is that they do not cover up anything in the system that would offend anyone. I remember back in the day cutting side windows into cases and paying careful attention to hide things I didn't want anyone to see and well, this is the same idea.