Cooler Master TD500 Mesh Case Review
Author:

Dennis Garcia
Published:
Tuesday, December 1, 2020

Case Cooling and Construction
As part of the teardown process I like to remove all of the panels and see how well the case is setup to move air around. The Cooler Master TD500 Mesh comes with three ARGB 120mm fans to offer a pressure positive cooling experience. Each fan occupies an individual fan location with no open areas and no leakage giving the case the best chance at breathing well.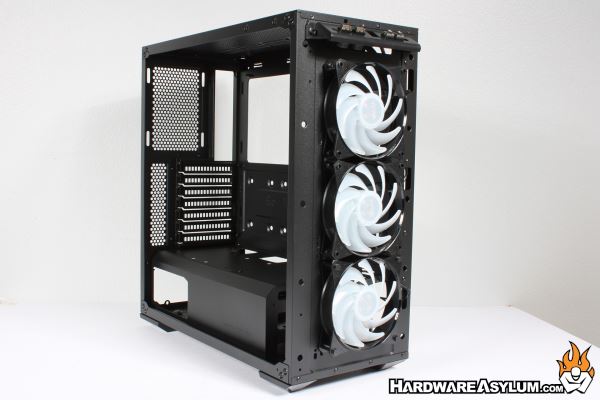 Much like the lack of external drive bays the lack of case fans is indicative of a push to AIO and DIY watercooling. You will still want ample air intake and with the ARGB fans pulling air in that leaves you two locations to install an AIO depending on your radiator selection.
Across the top of the case you will find a removable magnetic filter that not only helps to dress up the case but also hides the top mounted fan locations. Long slots are provided allowing you to install a variety of different fan and radiator combos including the large 280 (2x 140) and 360 (3x120) and position them where they would fit best.
As you will notice the fan mounting locations are also offset away from the motherboard tray to allow clearance for the motherboard and anything you may need to install.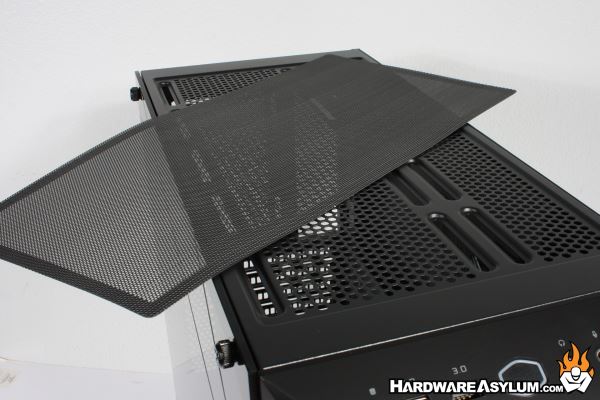 One of the things the internet loves to complain about is intake air restrictions. I can tell you that modern case designs are leaps and bounds better than some of the stuff I cut my teeth on and things are only getting better. The Cooler Master TD500 Mesh features a fully meshed out front panel that has been diamond embossed to create a very unique texture.
The lines and texture on the front bezel are designed to match the crystalline texture on the tempered glass and while the design is very subtle it stands out quite well when light reflects off the surface.
As a casemodder I like to look at all aspects of a case which can give me an indication as to who strong the chassis is to support mods. The corner details are very strong with double rivets to prevent twists. This can create a very strong corner joint especially when additional panels are embossed and made to intersect at multiple points.
However, the type of metal used in the TD500 Mesh is quite thin and while care was taken to provide strength there are instances when panels can rattle and the metal will deform with very little pressure.
While Cooler Master shows photos of this case with a full DIY water loop installed I wouldn't suggest any extensive mods where metal cutting is involved. I might also shy against a full dual 360mm DIY water loop if you ever planned to move the case around on a regular basis. The excessive weight may prove fatal to your build.
Mods I would like to see are color themes. The front mesh in the bezel is ripe for an accent color paint job that would then be carried through to the motherboard tray. Basement panels, expansion slot covers and the main frame would remain black offering just enough color contrast to make any build really pop.