Fractal Meshify 2 Compact Case Review
Author:

Dennis Garcia
Published:
Wednesday, February 24, 2021

Case Interior
As with all of our case reviews, we like to tear them down to expose what really makes them work and highlight some of the features we find along the way.
At the top of the case the panel with the full metal mesh is actually a thick metal panel covering the front panel controls and fan filter.
Under the panel you'll find a familiar fan filter with the same fractal pattern found on the bottom filter. Unlike the bottom filter this one has a series of locks that hold the filter in place.
Under the filter is a metal panel used to hold any fan and radiator combo you can imagine. That is, provided they are 120mm fans and radiators less than 240mm.

To help with system install the top fan rack is also removable allowing you fully access to the top of the case and the top part of the motherboard.
Seems you won't need to reach through fan holes anymore to connect that pesky CPU power cable.
Both the top panel and side panels use the ball style clips to hold their panels in place. This is a great system in that the connection is quite sturdy and allows them to be quickly removed with a little force. The side panel(s) use the same connection with the metal bars being bonded to the tempered glass. There are two ball clips along with some friction clips at each end. The pressure required to remove the panel is pretty light and yet strong enough that the panels won't fly off unless you want them to.
Internally the Fractal Design Meshify 2 Compact will hold a total for four drives using the included hardware. This can be expanded to 6 with optional brackets which is (in my opinion) 3 more than most budget builders would ever need.
The drive rack under the basement panel can hold 2x 3.5" or 2x 2.5" drives in the available trays. These trays are also made from metal for that extra vote of quality and confidence. You'll find two more 2.5" SSD mounting positions behind the motherboard tray which can be moved to the basement panel above the PSU if you feel like showing off your drive choices.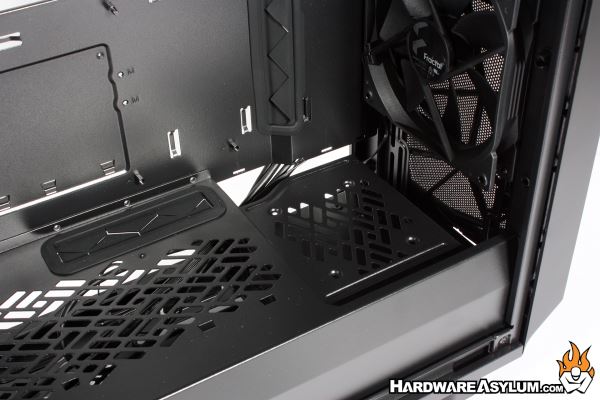 Speaking of basement panel. This is a full coverage panel that will completely conceal the PSU, drive rack, and cables but, comes with two removable panels allowing you access to remove the drive rack and/or install different cooling options such as the supported 360mm radiator and required fans.