Fractal Meshify 2 Compact Case Review
Author:

Dennis Garcia
Published:
Wednesday, February 24, 2021

Conclusion
There is a growing trend in the enthusiast PC world for building smaller computers and while Mini ITX is the logical solution it seems sacrilege to buy a motherboard with no less than three expansion slots. This really goes against the growing trend but, does carve out a nice niche for the system builder.
Most builds these days are moving towards SSD storage and currently the fastest on the market is the M.2 NVMe meaning that if this is your only drive there is little reason to buy a case with ample internal storage. Two drive positions is plenty and is what makes the Meshify 2 Compact a perfect case for the budget builder. While I say "budget" the Meshify 2 Compact will still set you back a C-note and is currently available in Black and Grey with both Tempered Glass in Light and Dark tint. A White version of the Meshifiy 2 Compact will be available later this summer and offers a clear tint.
Speaking of a typical build. The Meshify 2 Compact supports the mother popular motherboard form factors of ATX and smaller and comes with a full assortment of seven expansion slots. Sadly, there is no vertical GPU mounting option but you get ample case venting through the multitude of textured vents and seven fan positions throughout the case. The Meshify 2 Compact supports both the 360mm and 280mm radiators front and up to a 240mm at the top. If you are 100% aircooling you can translate that into maximum fan size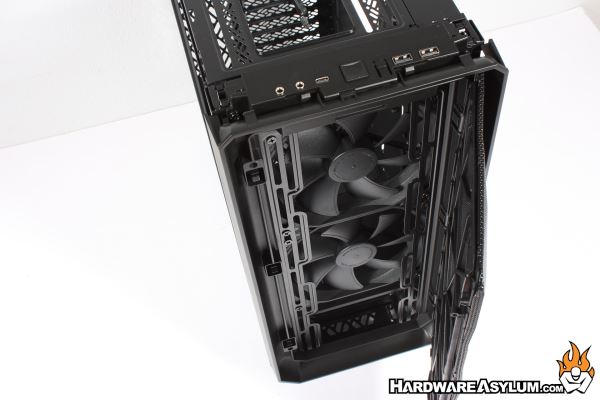 Construction of the Meshify 2 Compact is extremally good. The metal is of a quality grade with no noticeable rattles and a noticeable "heft" when moving the case around. Each panel is a unique construction that varies from plastic to quality steel. The front bezel is made from plastic and features a hinged door allowing you access to the cooling fans and the removable fan filter. At the top of the case the removable panel is steel with the imbedded mesh panel which adds to the overall quality and attention to detail.
I especially like how the fan mounting panel is removable allowing you full access to the top of the motherboard which is surprisingly unique in the PC building world.
Overall, I rather enjoyed the Meshify 2 Compact. It wouldn't be my first choice for building an enthusiast PC but, it does check all the boxes for what a modern PC case NEEDs to have. There is plenty of room for any ATX motherboard, basement panel for cable management and the cooling options are on par. Sadly, there is no vertical GPU option without installing the Flex B-20 bracket and RGB is absent from the design. While most will praise the Meshify 2 Compact for its cooling options the only thing I see is an open test bench with no internal flow, that is unless you max out every fan position.
Good Things
Plenty of Fan Locations
Multiple Radiator Support Options
Excellent Style and Design
Compact Design
Traditional Case with Extra Room to Grow
Basement Panel to Hide Wires
Great Tempered Glass Panels
Option for Vertical GPU
Bad Things
Limited USB Support
No RGB
No dedicated vertical GPU location
Hardware Asylum Rating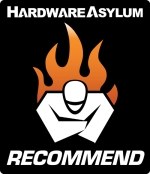 Fractal Meshify 2 Compact Case Review
Recommend
https://www.hardwareasylum.com