Fractal Meshify 2 Compact Case Review
Author:

Dennis Garcia
Published:
Wednesday, February 24, 2021

Case Cooling and Install
With everything removed we can get a great look at how the Meshify 2 Compact is constructed. Up front you'll see the two included 140mm fans, these are the Dynamic X2 GP-14 variants while the rear fan is the Dynamic X2 GP-12 version.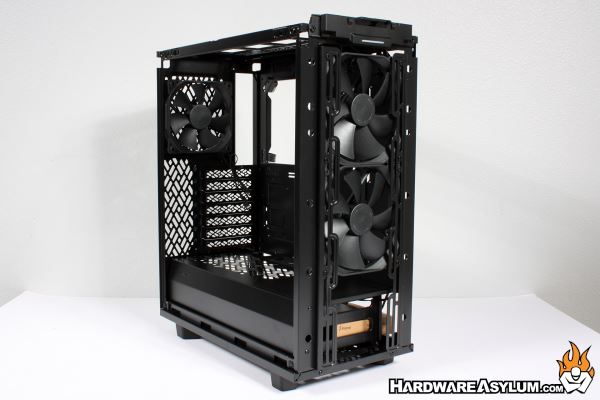 In terms of cooling options, the Meshify 2 Compact supports 120mm fans at the back and top of the case while the front will support larger 280mm radiators and the longer 360mm radiator. One unqiue feature is the ability to install a 120mm fan at the bottom of the case, provided you remove the internal drive rack.
Early in this review I mentioned how much smaller the "Compact" version of the Meshify 2 is and yet, the overall dimensions are not much different from other modern chassis designs. The area of concern is near the front where you would typically find 3.5" and 5.25" drive bays and once those have been removed the extra space can be reclaimed.
The Meshify 2 Compact supports ATX and smaller motherboards and still comes with ample room for cable management. The primary cable chase is located to the front of the case with easy access to the pass-through openings and natural location where the PSU cables exit the basement.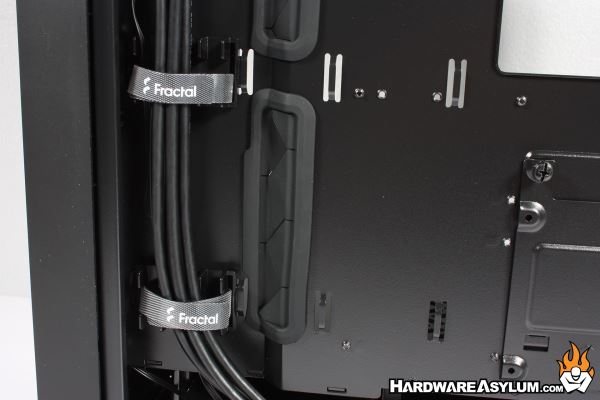 As expected, you will find a large opening in the motherboard tray for heatsink access and plenty of loops for cable tie downs. Cable access is available at the top, right and bottom of the motherboard ensuring that cables will not need to travel far to be connected.
Access around the motherboard is tight. We installed a Gigabyte Aorus AX370-Gaming 5 motherboard to give you a sense of scale and while there is a little wiggle room it is clear that ATX "is" the largest form factor you will want to install. Access to the cable holes is spot on and I expecially like the raised area to the right of the motherboard which allows the cables to exit at a more natural angle.
At the top of the motherboard the fan and radiator location has been offset away from the motherboard tray giving you plenty of access to install your cooler without impacting anything inside the build which also goes for any aircooler you want to run given that the Meshify 2 Compact proves over 169mm of clearance space for coolers inside the case.