Fractal Meshify 2 Compact Case Review
Author:

Dennis Garcia
Published:
Wednesday, February 24, 2021

Introduction
There are some definite time periods in the enthusiast PC world and while most of us might focus on processor or GPU generations the computer case is really the driver of it all. In a traditional sense the computer case was the holder of everything needed for your computer. It came with places for storage and both internal and external drives. However, as technology has advanced the need for many of these items has diminished. No longer do we buy cases with external drive bays and the need for internal storage has diminished which begs the question.
What do we do with the extra space?
In this review we will be looking at a new case from Fractal Design called the Meshify 2 Compact. Many enthusiasts are familiar with the Meshify 2. It is a standard tower chassis with fully open front panel made from mesh embossed with a fractal pattern. As you may have guessed that is where the Meshify name comes from and overall, it is a really good design.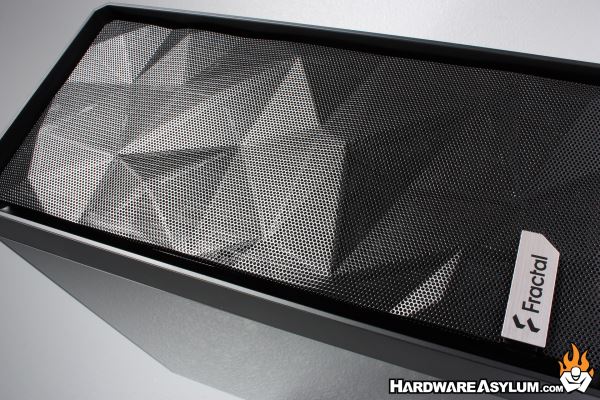 The Meshify 2 Compact is basically the same chassis but with a more realistic approach when it comes to building a modern PC. One of the most notable of these is the removal of the giant section used to hold 3.5" hard drives and reduced the motherboard compatibility down to standard ATX instead of the E-ATX like found on the Meshify 2.
It should be noted that this is not the first "compact" version of the Meshify and while I might call attention to the full sized Meshify 2 there is a Meshify C that shares the same overall design and form factor.
However, with Meshify 2 it brings with it a more refined design and several improvements from internal storage to even how the panels connect making this case a true upgrade.
Key Features
Iconic angular mesh front provides filtered airflow with a bold, stealth-inspired aesthetic Compact yet spacious interior accommodates ATX, mATX and mITX motherboards
Room for GPUs up to 360 mm with a 240 mm radiator in the top, or up to 360/280 mm front radiators with GPUs under 305 mm
Seamless TG panel with steel frame support and bolt-free top-latching mechanism
Modular chassis design with removable top panel assembly opens up to fully expose the case interior on three sides
Seven fan mounts with three preinstalled Fractal Design Dynamic X2 fans
Three front USB ports including one USB 3.1 Gen 2 Type-C with fast charging and speeds up to 10Gbps
New front panel design with hinged removable mesh and tether-free bezel for easier access to front fan mounts
Nylon front filter that can be removed from the mesh to further increase airflow
Support for radiators up to 360/280 mm in front and 240 mm up top
Flexible storage options supporting two 2.5"/3.5" drives and up to four SSDs (two SSD brackets included)
Easy-to-clean filters on the front, top and base with full PSU coverage and convenient front access
Three cable alignment clips and six velcro straps
Full length power supply shroud with two-part removable cover
Bridgeless expansion slots ensure obstruction-free connections
Specifications
Front panel construction: Front I/O attached to chassis / Hinged removable steel mesh panel / Removable nylon filter
Top panel construction: Fully removable top panel assembly / Integrated steel mesh / Removable nylon filtration
Solid side panel construction: Steel with tool-less top latching
TG side panel construction: Bolt-free, steel-reinforced TG with tool-less top latching
3.5"/2.5" drive mounts: 2 included, 4 max via optional Multibrackets
Dedicated 2.5" mounts: 2 trays included, 4 positions total
Expansion slots: 7 (bridgeless)
Motherboard compatibility: ATX / mATX / mITX
Front interface: 1x USB 3.1 Gen 2 Type-C / 2x USB 3.0 / Audio I/O / Power/Reset buttons
Total fan mounts: 7x 120 or 4x 140 mm + 2x 120 mm
Front fan: 3x 120 or 2x 140 mm (2x Dynamic X2 GP-14 included)
Top fan: 2x 120/140 mm
Rear fan: 1x 120 mm (1x Dynamic X2 GP-12 included)
Bottom fan: 1x 120 mm (requires removal of HDD cage)
Dust filters: Top fans (nylon, removable) / Front fans (nylon, removable) / Bottom fan + PSU (nylon, removable)
Front radiator: Up to 360/280 mm (max 145 mm width)
Top radiator: Up to 240 mm (max 40 mm motherboard component height)
Rear radiator: 120 mm
Bottom radiator: 120 mm (requires removal of HDD cage)
PSU shroud: Full-length ventilated steel with two-part removable inlay
PSU max length: 165 mm (with HDD cage and front fan)
GPU max length: 360 mm total / 341 mm with front fan
CPU cooler max height: 169 mm
Cable guides: Yes
Cable routing space: 17-28 mm
Case dimensions: (LxWxH) 427 x 210 x 474 mm
Case dimensions w/o feet/protrusions/screws: 415 x 210 x 451 mm