HBT+ Gravity 6 Enthusiast Computer Case Review
Author:

Dennis Garcia
Published:
Wednesday, November 23, 2016

Case Interior and Storage
Removing the aluminum side panels allows us to get a good look inside the case. The interior of the HBT+ Gravity 6 is a little different from most ATX cases in that they have taken a minimalist approach to the design and by this I mean you only get what you need leaving you more room to install the stuff you want.
The Gravity 6 is following an open case concept and while the case looks to be segmented the PSU cover is removable to expose the PSU. Replace the cover to clean up your case interior or leave it off and get extra room for additional storage drives or DIY watercooling gear.
From the back of the case you will get access to the cable management options including access to hook up storage drives and fan installations. In the lower right section of the motherboard tray you'll find the included accessory box that is also clearly labeled. I won't tell you how many times I have lost my accessory box or found ones and couldn't remember what case they went to . HBT makes it easy and if you decide not to use the hard drive trays you have a factory location to store your case accessories.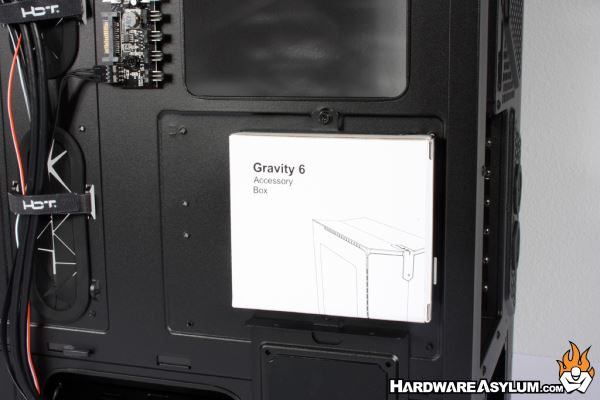 Speaking of drive trays the HBT Gravity comes with drive trays mounted to the back of the motherboard tray and three in the main chassis space. All of the trays are made from metal support both 3.5" and 2.5" storage drives. You can move the front mounted trays around to any of the available locations including two located under the PSU cover.
A nice stylistic addition is the large side window that has been shaded quite dark. Typically cases like this use a clear side window or one with a light tint. While these look nice I've always liked the darker shades as they tend to look better with interior accent lighting and conceal better when the lights are off.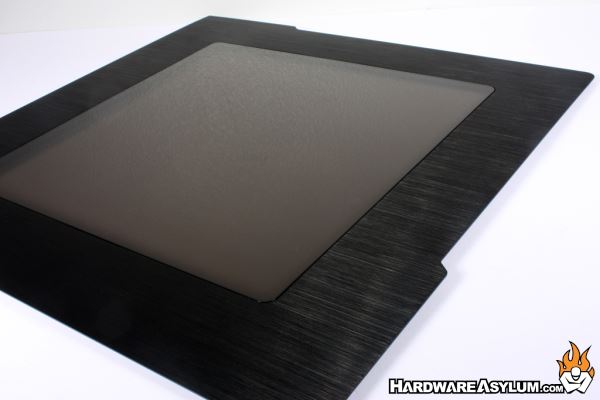 Personally when I do mods one of the first things I do is tint the side windows with 20% automotive window tint and I'm glad to see a company doing this from the factory.