HBT+ Gravity 6 Enthusiast Computer Case Review
Author:

Dennis Garcia
Published:
Wednesday, November 23, 2016

Case Construction and Modding Potential
The HBT+ Gravity 6 is a very interesting case that is built around the open chassis concept. With an open chassis you are given more freedom for systems builds and modifications when compared to more traditional case with internal components like external drive bays and internal drive racks. Of course these can be removed using some pretty simple tools however, with the Gravity 6 that process has been done for us.
There are several other cases that follow this concept like the Phanteks EVOLV and Silverstone Primera. They have some obvious similarities which reinforces the popularity of custom builds over a simple systems.
Construction of the Gravity 6 is quite good with double rivet corners and reinforcements where needed to ensure strength. Large panels like the motherboard tray feature embossing around key features to help retain strength and give the entire chassis a very solid feel with no rattles.
Aluminum was used to clad the Gravity 6 and not only helps the case stand out with exotic materials but also creates some interesting lines where the panels meet the case sides. This would be impossible to replicate using SECC panels and is something that could only be topped by tempered glass. (maybe that will happen soon eh?)
I really like this case for its modding potential. Off the shelf the case is an empty canvas for any custom build however, tearing the case apart is where the true modding beings.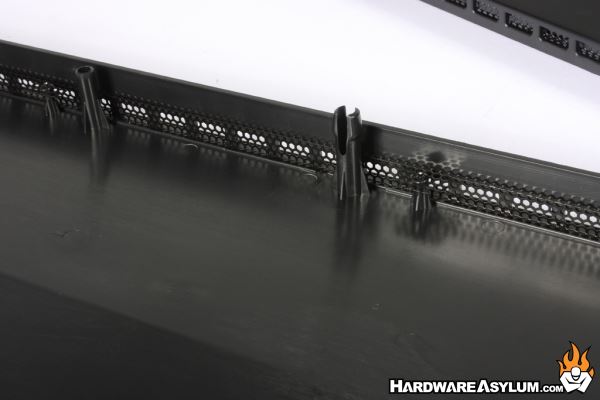 Obvious modifications include custom paint and the one piece motherboard tray is just begging for a coat of color to help accent whatever hardware you are planning to install. Intake and exhaust venting is integrated into the plastic bezels and further accented by metal mesh. This mesh is easily removed making a color change quick and easy.
Unfortunately removing the aluminum veneer to directly paint the plastic may have some undesirable results so all of the color changes will be limited to the SECC parts of the base chassis. With eight fan placements and locations for RGB LED lighting strips the sky is the limit for lighting mods including accent lighting under the bezels while complimented with LED fans at the corners.