HBT+ Gravity 6 Enthusiast Computer Case Review
Author:

Dennis Garcia
Published:
Wednesday, November 23, 2016

System Mockup and Installation
The HBT+ Gravity 6 supports ATX motherboards up to 12" x 10.5" which includes many of the larger boards common to the high-end gaming and overclocking demographic. To give some indication of size I installed a Gigabyte X99 Designare-EX and it fit extremely well. There is a decent clearance gap at the top of the motherboard for cable and fan clearance.
At the bottom of the motherboard there is only a slight gap between the motherboard and the top of the PSU cover. A number of holes are nearby to allow access to front panel controls and internal USB connections. This is one thing I like about HBT+ designs and their efforts to ensure ease of installation and cleanliness of your final build.
The overall width of your motherboard should not exceed 9.6" to avoid interference with the rubber grommets used to help with cable routing. At the maximum 10.5" a little over half of the grommet will be covered but still allow access to run cables.
Running cables in the Gravity 6 is aided by the 34mm gap behind the motherboard tray. I mentioned how this case is a little wider than most and that is attributed to the 140mm exhaust fan and this extra space behind the motherboard tray.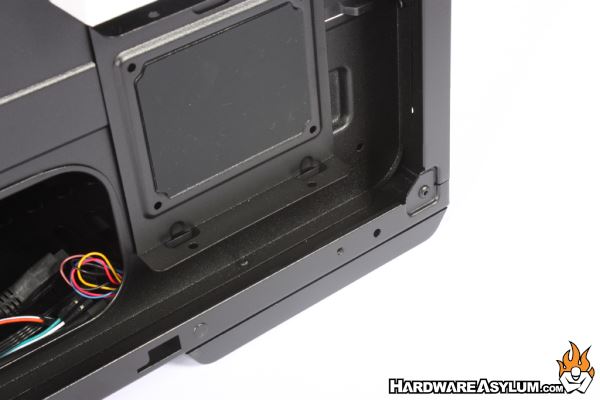 Given how many companies will try to skimp on cable routing either by making the motherboard area smaller or by embossing the side panel to provide more space. HBT has taken a different approach and is something I feel gives credibility to the enthusiast nature of the Gravity 6.