HBT+ Gravity 6 Enthusiast Computer Case Review
Author:

Dennis Garcia
Published:
Wednesday, November 23, 2016

Cooling the Gravity 6
All of the plastic panels on the Gravity are removable which gives you full access to everything on the case. This can be helpful during the build process especially when doing DIY watercooling or even simply fan swaps.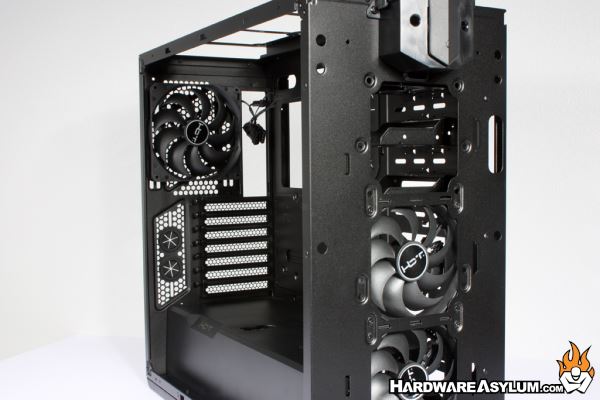 As the photo shows the Gravity comes with three basic fans, two 120mm fans located at the front and a single 140mm located in the back. There are two magnetic fan filters with this case. The first is located at the bottom and the second is covering the front mounted fans. To gain access to the front filter you need to remove the front bezel and pop the magnetic clasp.
A great feature of the HBT Gravity 6 is their attention to watercooling. As we all know the AIO cooler has been a popular cooling solution for the past several years and while easy to install the challenge has always been finding a location for the radiator. The Gravity lists support for 360mm and 280mm radiators in both the top and front locations on the chassis.
The top fan bracket is removable to allow easy installation with an opening preference for the triple fan 360mm radiators. Holes are drilled for the dual fan 280mm radiator but the opening wasn't contoured to match.
The final cooling feature is an eight port PWM fan hub located on the backside of the motherboard tray. This fan hub is a fan signal splitter drawing power from a SATA power connector and taking RPM signals from the attached 4-pin fan extension. All of the output connections are 3-pin meaning that PWM signals aren't being directly passed but do respond to PWM signals.
Case Venting
Cooling the Gravity is done through some very decorative venting located along the lower edges of the top and front bezels. These vents open into a large chamber that can help to minimize excess fan noise.
The front bezel has an additional vent located at the bottom while the top has a larger exhaust opening at the back. Both of the larger vents are very well disguised and the side vents blend well with the rest of the design.