beQuiet Silent Base 802 Case Review
Author:

Darren McCain
Published:
Friday, February 26, 2021

Case Interior
With the sides and various panels removed you can see all of the additional venting more clearly. be quiet! has squeezed in venting in lots of nooks and crannies.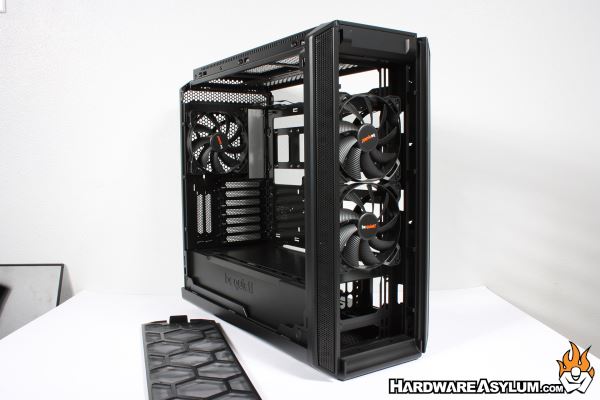 The interior layout stays pretty true to the traditional ATX layout and allows for motherboards from Mini-ATX up to E-ATX (30.5 x 27.5cm) and video cards up to 432mm without the optional hard drive cage installed. The extra width and size makes for plenty of room for a heat sink up to 288mm.
Here is a closer look at the corner construction once the side is removed. Notice the additional space above the fan mounts for airflow in the top of the case. This attic is roughly an inch deep. The top mounting allows for up to three 120mm or 140mm fans and provides plenty of room for a good radiator. All of this additional space on the top and sides makes cable management a breeze as well.
Along the front of the case there is a series of square mounts that can be used for additional storage via an optional hard drive cage. Each of these optional hard drive cages can hold a single 5.2" hard drive or a set of 2.5" SSDs. I have to admit installing one of these drive bays at the bottom would make an attractive removable shelf for a pump/reservoir combo.
The interior is a spacious if traditional layout. The power supply and hard drive cage are stored in the basement under a cleaver shroud. Across the top of the shroud are four removable panels that can be individually removed to allow for the installation of an additional 140mm fan or perhaps mounted water-cooling components. A smaller panel at each end can also be removed for cable routing or to make room for a larger front radiator, up to 420mm.
Sharper eyes may have already noticed the Base 802 has the option to install a vertical mounted graphics card without any additional modding. But that's not all. Be quiet! has designed the Quiet Base 802 to invert its internal layout. This means you can dismantle the interior skeleton and reverse it for a right side installation. This means if you have a windowed version, you can choose to have the window on the right or left side, thanks to the interchangeable side mounts, and still see the entire interior installation. I have to admit this is the first time I have seen this option in a case!
Here is a closer look at the removable hard drive assembly. Three thumb screws hold the bay in place and will hold a set of 3.5" drives. Along the back of the mother board tray there are two additional removable drive mounts: a single and a mount with two. This brings the total drive installation options to 3 x 3.5" and 7 2.5". If you install all of the optional drive bay trays this number jumps to a whopping 7 x 3.5" and 15 23.5' drives.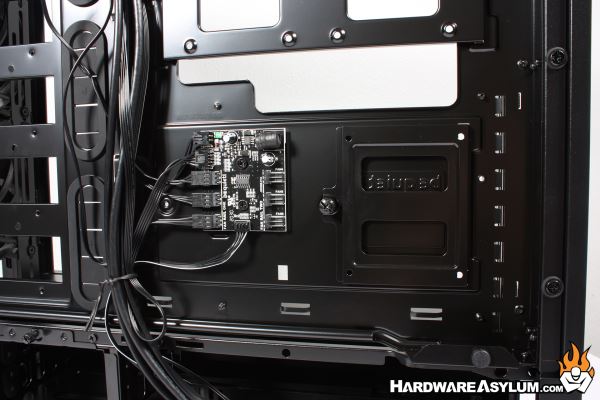 The back of the motherboard tray also houses the included fan control hub. This hub uses the top switch to provide 4 levels of control to up to 6 3-pin fan connections with PWM. It's a nice addition that helps keep those Pure Wings 2 fans effective and quiet.