beQuiet Silent Base 802 Case Review
Author:

Darren McCain
Published:
Friday, February 26, 2021

Introduction
It is hard to believe nearly six years has passed since be quiet! launched their first case with the Silent Base 800. Now be quiet! Has three different award winning case lines; Dark, Silent and Pure Base lines.
Today we will be looking at the latest Mid-Tower design from the Silent Base series, the Silent Base 802. Silent Base cases are designed to provide maximum airflow and stay super silent. Can the 802 chassis live up to the be quiet! reputation? Let's find out!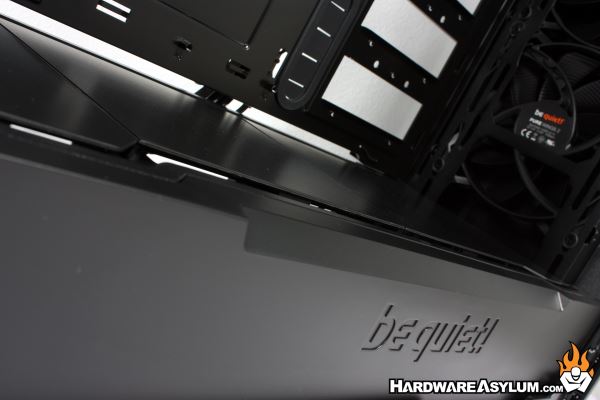 The current Silent Base line includes the 802 seen here and two more budget friendly 600 line cases. At each level you have the option of a windowed or windowless case and can choose between black and white colored designs. The optional window is a pretty easy stretch based on cost but does give up some of the silencing that makes this case so appealing.
Looking back on the original Base 800 design, I miss the be quiet! black and orange color scheme but I can see why as a single color has a wider market appeal. Also, the Base 802 is completely devoid of RGB. If you miss RGB right out of the box you can look to the Dark Base 700.
Features
Interchangeable top cover and front panel for either maximum airflow or silent operation
Three Pure Wings 2 140mm fans
Extra thick insulation mats for improved noise reduction
State-of-the-art I/O-panel with fan controller and USB 3.2 Gen. 2 Type C
Decoupled motherboard tray can be relocated for an inverted layout
Detachable top bracket ensures easy installation of radiators and fans
Ready for radiators up to 420mm
Tinted and tempered glass side window allows a superb view
Specifications
Model: Silent Base 802 Black
PSU form factor: ATX PS/2
Motherboard compatibility: E-ATX (30.5 x 27.5cm) / ATX / M-ATX / Mini-ITX
Case size:

stands (L x W x H), (mm): 539 x 245 x 507
stands (L x W x H), (mm): 539 x 281 x 553

Installation of motherboards with backplate ?
Dimensions side panel window (L x W), (mm): 401 x 431
Color option: Black
Weight (kg): 13.15
USB:

0: N/A
USB 3.2 Gen. 1: 2
USB 3.2 Gen. 2 Type C: 1

HD Audio I/O: Mic + Audio
Expansion slots: 7 + 2
Fan mounting locations: 5

Installed: 2x Pure Wings 2 140mm front, 1x Pure Wings 2 140mm rear

Qi charger / Quick Charging Option: N/A
Warranty: 3 years
be quiet! has been manufacturing computer peripherals for over 10 years and is considered a premium manufacturer of both power supplies and PC cooling solutions. As the number 1 power supplier in Germany, be quiet! is constantly voted the number 1 power supply manufacturer and top PC CPU cooler brand by top publications and trade shows.