SilverStone SST-PM02 Primera Series Case Review
Author:

Darren McCain
Published:
Sunday, June 03, 2018

Introduction
It is no secret we are big fans of SilverStone cases here in the lab thanks to their innovative designs and exceptional build quality. When we first got a glimpse of the new lower priced cases this year at CES, I jumped at the chance to take a closer look and today we will be looking at the first of these new mid-tower designs.
The SilverStone SST-PM02 Primera Series case is designed to support the latest in cooling options comes with an oversized tempered glass window while and still keeping your budget in mind. Can the PM02 live up to the promise? Let's find out!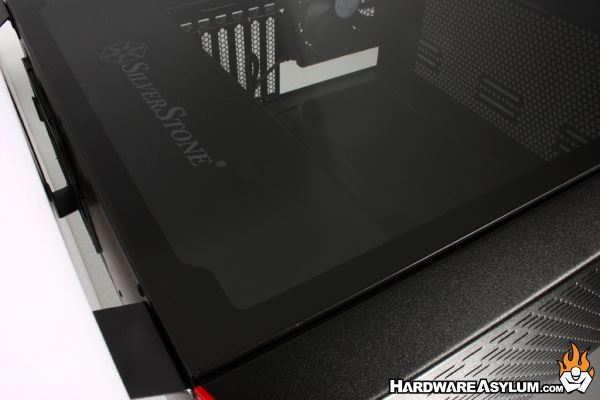 The Primera PM02 is something of a sequel to the popular PM01 design we reviewed back in 2016. Gone are the angular plastic pieces and abundant mesh which is now replaced with a cleaner, more modern look. The 8.66 x 19.33 x 17.95 inch PM02 is offered in two colors including an all black with red accents you see here and a pure white version. Both cases feature the oversized Tempered glass window found on most SilverStone designs today.
Let's take a look at the specs:
Features
Full tempered-glass side panel
Includes front mounted USB 3.1 Gen1 Type-C port
Super clean internal look with PSU and drive bay cover
Removable filters with positive air pressure design for dust reduction
Supports graphics cards up to 16.3" (415mm)
Classic front panel design with projected logo lighting
Includes four 140mm PWM fans
Specifications
Model No:
SST-PM02B-G (black + tempered glass window)
SST-PM02W-G (white + tempered glass window)
Material: Steel front panel, steel body, tempered glass window
Motherboard: ATX ( up to 12" x 11") , Micro-ATX
Drive bay: Internal 3.5" x 3 (compatible with 2.5") , 2.5" x 3
Cooling system:
Front: 3 x 120 / 140mm fan slot (includes 3 x 140mm PWM fan)
Rear: 1 x 120mm / 140mm fan slot (includes 1 x 140mm PWM fan)
Top: 2 x 120mm / 140mm fan slot
Radiator support:
Front: 2 x 120mm ; 1 x 240mm / 280mm / 360mm
Rear: 1 x 120mm / 140mm
Top: 2 x 120mm ; 1 x 240mm / 280mm
Expansion slot: 7
Front I/O port:
USB 3.0 Type-A x 3, USB 3.1 Gen1 Type-C x 1
Audio x 1
MIC x 1
Power supply: Optional PS2(ATX)
Expansion card: Compatible up to 16.3" (415mm) in length, width restriction –6.85" (174mm)
Limitation of CPU cooler: 167mm
Limitation of PSU: 190mm
Net weight: 8.82 kg
Dimension:
220mm (W) x 491mm (H) x 456mm (D), 49.3 Liters
8.66" (W) x 19.33" (H) x 17.95" (D), 49.3 Liters
Founded in 2003, SilverStone has been making award winning cases and power supplies since the beginning.Today SilverStone products can be seen all over the world, not just for computer users but also for home entertainment use. Their unique chassis designs and innovative design decisions have long made SilverStone products some of our most recommended by Hardware Asylum.