SilverStone Primera PM01 Case Review
Author:

Dennis Garcia
Published:
Friday, October 21, 2016

Introduction
Computer cases tend to follow the popular trends in the market. Some of those trends are beneficial like side windows and large 120mm cooling fans while others can make you cringe like hard drive docks and excessive internal storage options. Regardless of what case you currently have and what features may have been popular during that era there have always been ways to modify your case and experienced modders who know how to freshen the overall style.
In this review I'll be looking at the SilverStone Primera Series PM01. This is a new series for Silverstone that is designed for exceptional style and functionality. Primera is a Spanish word for first and is an interesting choice considering that the overall design and style are "firsts" for SilverStone despite the extravagant Raven designs we all love.
Very few cases up to this point come with a wide array of accessory features. You will find several that come with extra fans included and some with LED style fans however, things like internal lighting effects and fan controllers are luxuries that often get removed for the sake of cost or to make budget for rubberized coatings and tempered glass side panels.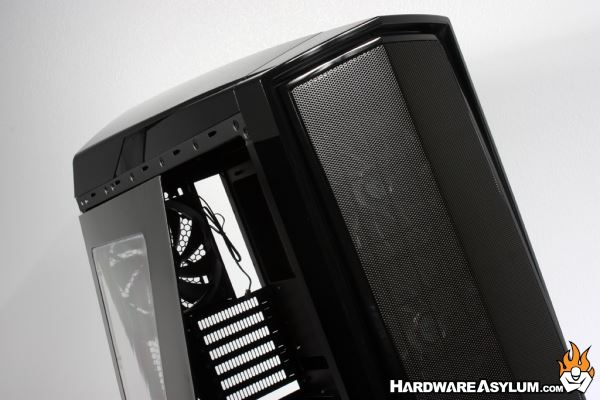 The Primera Series PM01 has embraced many of these extra features and included a good number of current trends to create an amazing platform for any custom PC build.
Specifications
Model No. SST-PM01BR-W (black with red LED + window) / SST-PM01CR-W (matte black with red LED + window) / SST-PM01TR-W (titanium with red LED + window) / SST-PM01WA-W (white with blue LED + window)
Material Plastic outer shell, steel body
Motherboard ATX (up to 12" x 10.7"), Micro-ATX
Drive bay
External None
Internal 2.5" or 3.5" x 4, 2.5" x 5
Cooling system
Front 3 x 120mm / 140mm fan slot (includes 3 x 140mm LED fan)
Rear 1 x 120mm / 140mm fan slot (includes 1 x 140mm fan)
Top 3 x 120mm fan slot or 2 x 140mm fan slot
Radiator support
Front 120mm x 2 ; 240mm / 280mm / 360mm x 1
Rear 120mm / 140mm x 1
Top 120mm x 2 ; 240mm / 280mm / 360mm x 1**
Expansion slot 7
Front I/O port USB 2.0 x 2 / USB 3.0 x 2 / Audio x 1 / MIC x 1
Power supply Standard PS2(ATX)
Expansion card Support graphics card up to 16.5", width restriction - 6.88"
Limitation of CPU cooler 180mm
Limitation of PSU 240mm
Net weight 9kg
Dimension 220mm (W) x 571mm (H) x 560mm (D), 70.3 Liters
The specs really don't mention much about what makes the PM01 special, for that you'll have to see it for yourself.