SilverStone Primera PM01 Case Review
Author:

Dennis Garcia
Published:
Friday, October 21, 2016

System Mockup and Lighting
The SilverStone Primera PM01 supports ATX motherboards up to 12" x 10.7" and the Micro ATX form factor. Ideally you should be able to install a Mini ITX system if you prefer to have even more empty space in your system builds.
To give some indication of size I installed a MSI X99 Tomahawk and it fit extremely well. There is a decent clearance gap at the top of the motherboard for cable and fan clearance.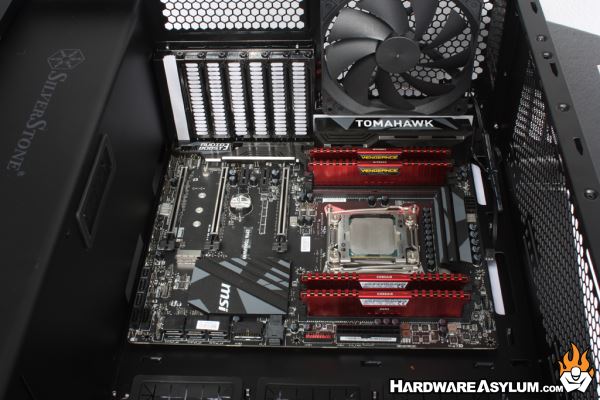 At the bottom of the motherboard there is only a slight gap between the motherboard and the top of the PSU cover. A number of holes are nearby to allow access to front panel controls and internal USB connections. This is one thing I like about Silverstone designs and their efforts to ensure ease of installation and cleanliness of your final build.
The overall width of your motherboard should not exceed 10.7" to avoid interference with the rubber grommets used to help with cable routing. As was mentioned before the remaining space can be used for additional SSD installations or any variety of DIY watercooling gear.
Or, I suppose if you are into custom electronics a number of mini PCs can be installed or even a flat panel display for even more sweet graphics
System Lighting
You can get the Primera PM01 in one of four configurations. Gloss Black, Matte Black and Titanium all come with Red LEDs and Red LED fans. The white version comes with Blue LEDs and LED Fans. Our version is the Gloss Black and I'm really quite impressed with the level of integrated lighting that comes with this case.
Along the upper and lower edges of the case you will find a segmented LED strip that provides a certain amount of edge lighting on the side window and into the chassis.
The three front fans are also LED illuminated and work independent of the actual fan controls allowing the LED lights to be disabled while still allowing the fans to spin.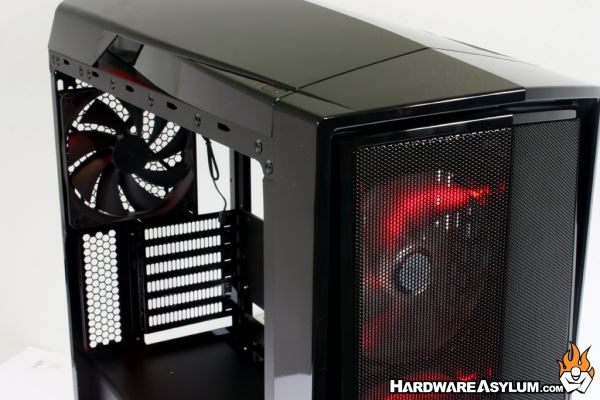 In fact there is a LED control button at the top of the case that will cycle through the four modes. Bright, Dim, Breathing and Off. Of course not plugging in the LED power will disable the lighting and any fan replacements will disable the LED control on that fan.