SilverStone Primera PM01 Case Review
Author:

Dennis Garcia
Published:
Friday, October 21, 2016

Primera Layout and Features Continued
Front controls are located at the top of the case and feature to USB 3.0 ports, two USB 2.0 ports in black and analog connections for headphone and mic. The power button is located on the top left of the case while the button to the right controls the different LED modes.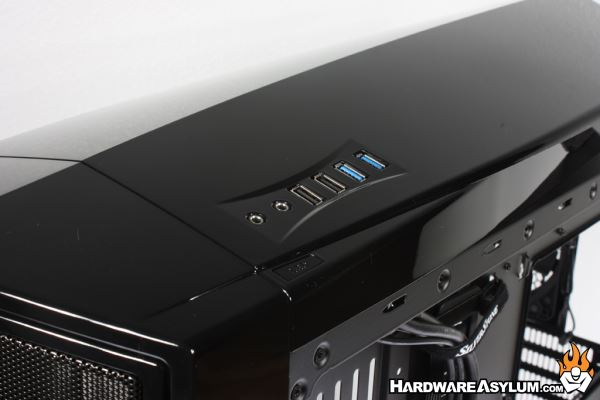 There is no reset button and much like the external 5.25" drive bays it seems that a real reset button is no longer considered necessary.
The seven expansion slots feature highly vented slot covers to promote good air movement and are joined with ample venting at the 140mm fan hole and empty space along the edge.
One of two filters found on the Primera PM01 is located at the bottom of the case to protect the PSU. Much to my surprise there are plastic covers at the bottom of the case and obscured by the integrated case feet.
With the absence of external 5.25" drive bays we are left with internal storage options. At the bottom of the case you will find an internal 3.5" hard drive rack supporting a total of three drives on plastic trays. Average consumers may only install a drive once or twice during the lifetime of their PC however system integrators perform that task 100's of times a day. To make the process faster the trays will flex open allowing tool free installation.
Two internal 2.5" drive trays are located on the back of the motherboard tray and held in place with a single thumb screen. The drives secure using the bottom mounting holes similar to installing a 2.5" SSD into the plastic trays in the drive rack.