SilverStone Primera PM01 Case Review
Author:

Dennis Garcia
Published:
Friday, October 21, 2016

Conclusion
When people come to me asking for build advice I tell them two things. Spend money on your motherboard and don't skimp on the case. Other items like processors and video cards can always be upgraded later however swapping a motherboard or chassis is rather involved so it is always best to plan ahead. The Primera PM01 is a rather inexpensive chassis and once you figure in the LED lighting effects, allowances for watercooling, number of included fans and overall design that price becomes a rather good bargain.
Looking back at previous SilverStone designs you can see that the PM01 is one of their more unique undertakings that can rival some of the early Raven cases. The front bezel looks to be inspired by an automobile. SilverStone clams "supercar" but I would lean more towards 1934 Chevy or custom street rod. Either way the angled look of the metal grill and lighted fans behind give the case a very unique style that is difficult to miss.
The top of the case carries the same lines as the front panel and while it has no natural venting there is a well sized vent at the back to handle exhaust. Too often enclosed designs use undersized vents to maintain style and I'm impressed to see that Silverstone managed to combine them quite well.
Inside the case you will find two major things. A PSU cover separating the lower half of the case from the top and a large motherboard compartment. SSD mountings are hidden behind the motherboard tray, 3.5" drives are located under the PSU cover and the external 5.25" drive bays have been removed. Those things combined give you plenty of extra space for watercooling gear or frankly anything else you can think of.
In terms of modifications many of the obvious ones have been handled at the factory like removing extra drive bays and expanded cooling support. I can see options to improve the lighting support by replacing the upper and lower LED strips with RGB LED variants and either backlighting the front bezel or replacing the fans with RGB versions to match the strip color.
Of course there are a few areas that could be painted including the front and back metal grills and while I LOVE the matte black coatings on the inside of the case you could give the motherboard tray some color to allow your watercooling gear a good backdrop.
My only real complaint with the Primera PM01 is the side panels. They are using the notch style mounting method that requires you to line up the tabs to lock the panel in place. Because of this the side panels are rather flimsy and become twisted when not installed.
Good Things
Eye Catching Style
Included LED Lighting
Good Case Venting
Allowances for Watercooling
Gloss Black
LED Lighting Control
Good Cable Management
Bad Things
No fan speed control
Only one LED color
Front filter difficult to remove
Hardware Asylum Rating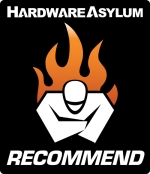 SilverStone Primera PM01 Case Review
Recommend
https://www.hardwareasylum.com