SilverStone Primera PM01 Case Review
Author:

Dennis Garcia
Published:
Friday, October 21, 2016

Case Cooling
Cooling the PM01 is handled by three 140mm LED fans located at the front of the case and a single 140mm fan located in the traditional exhaust location. These fans will help promote a positive air pressure situation which improves cooling and helps reduce how much dust settles inside the chassis.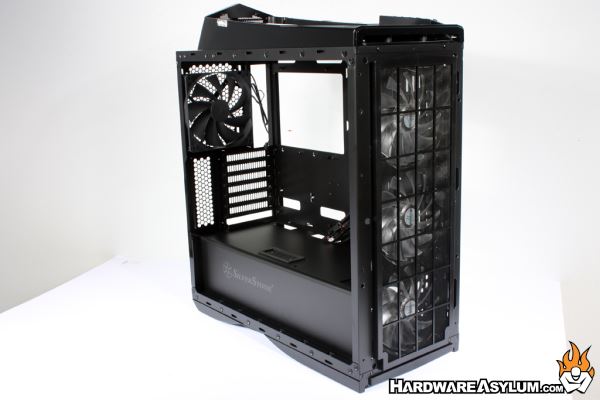 As mentioned before a single 140mm exhaust fan is also included been installed and there are placements for additional fans at the top of the case.
By removing the top panel you'll gain access to the area where fans can be installed. The actual chamber is quite deep and will support both fans and radiators assuming you aren't afraid of cutting holes.
If not the radiator will remain inside the case with the fans installed from the top.
You have two options available for top mounted fans including 3x 120mm or 2x 140mm. A single vent is located at the back of the case and unlike some other designs it is also quite large so to allow maximum airflow and done such a way that most users wouldn't notice it was there.
For those looking to build a DIY watercooling loop inside the Primera you will find a large area near the front of the case with enough space for a pump and reservoir installation. The slotted rail supports a variety of mounting brackets so there will be little need to drill your own holes.
Front mounted radiators can extend the full height of the case by sliding a small panel used to separate airflow coming off the bottommost fan. This will allow longer radiators to be installed and still allow a good amount of air to cool the hard drives.
A total of seven fans can be installed in the Primera PM01 and to make controlling those fans easier Silverstone has included a simple fan hub that will take a single 3-pin fan signal and distribute it to ten different fan headers.
Sadly the hub doesn't support PWM fan signals and doesn't have a speed controller but is a simple way to provide the same fan signal to a variety of different fans.
All of the installed intake fans are covered by a fine mesh fan filter that is accessible after removing the front bezel for easy cleaning.