SilverStone FARA R1 Pro Case Review
Author:

Darren McCain
Published:
Tuesday, February 16, 2021

Case Layout and Features
Perhaps the most striking thing about the R1 design is the gigantic tempered glass panel. The glass is held in place by four relatively short thumb screws and has a nice tint to it. The front is dominated by a mesh panel with a second mesh panel on the inside. The two are separated by a honey comb design that is very visible when the front fans are lit.
The front panel controls are located along the right side and houses the power and reset buttons. Below that are the I/O ports: 3 x USB 3.0, 1 x USB 2.0 and 1 x combo audio port. It is interesting to see these combo ports appearing over the more traditional seperated headphone and microphone set and we like it considering that many gaming headsets feature the 4-pole 3.5mm plugs making them easier to use.
The back shows a very traditional ATX layout with seven expansion slots. The top two are removable while the other five will need to be knocked out. You'll find a single 120mm ARGB exhasust fan at the top with multiple slots allowing you to reposition the fan if needed.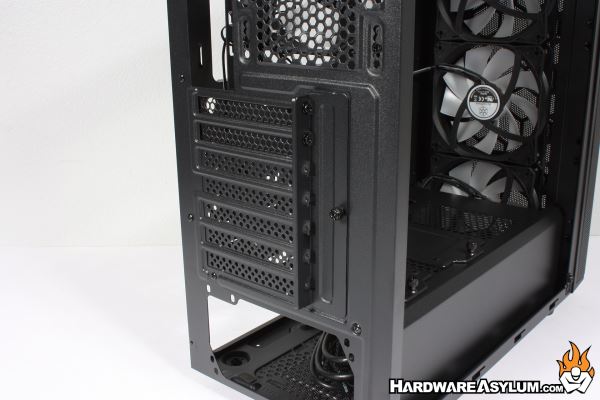 The top features a removable magnetic mesh filter that covers mounting locations for optional fans, up to two 120mm fans or two 140mm fans. The top should easily fit a radiator up to 240mm thanks to the lack of an internal drive bay at the front of the case.
Four removable plastic feet provide the foundation for the case and a removable filter is present to help keep debris out of your power supply. The feet raise the case about 1/2 inches to help with ventilation and to give you room to pick the case ups. BTW, this filter is held in place by clips not magnets.