SilverStone FARA R1 Pro Case Review
Author:

Darren McCain
Published:
Tuesday, February 16, 2021

Introduction
SilverStone has long been a favorite case manufacturer for us at Hardware Asylum and today we will be looking at one of their latest mid tower chassis: the FARA R1 Pro. The FARA R1 strives to be a fully featured mid-tower design that won't break your budget.
Usually when a case is positioned at the budget price point there are compromises to consider and mitigate. Let's see if the FARA R1 can make your wallet happy without forcing you to make difficult decisions with your next build.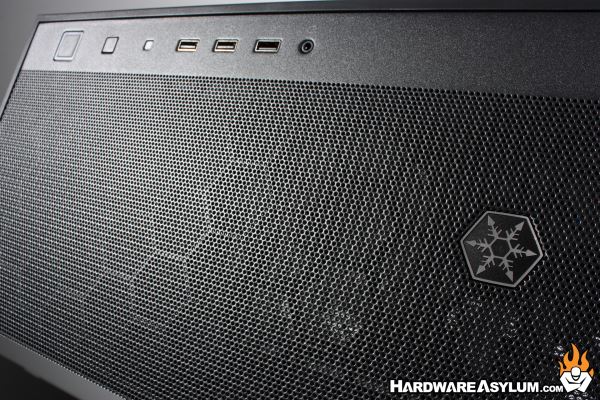 The FARA R1 is part of SilverStone's popular FARA (FA) series and shares its chassis with the aptly named FARA B1 models. Both case designs can be purchased in all black or white finishes and If you opt for the Pro model, like our review unit, you will get an additional RGB controller and a set of four 120mm Addressable RGB (ARGB) fans. Overall cost is about $20 USD more.
Both of the FARA designs are based around a very open mesh design with only the front bezel to differentiate them. Where the B1 features a more aggressive front bezel, the R1 takes a more subtle and flat approach. It is also possible to get the R1 without the tempered glass panel but I am not sure why you would go that route!
Features
Fully meshed front panel with shortened chassis provides large surface area for air intake
Precisely designed interior provides sufficient space for high end graphics card and multiple cooling options
Two USB 3.0 ports and one USB 2.0 port integrated with single audio jack provide great flexibility for various mobile audio accessories
Removable filters on top and bottom make cleaning out dust a breeze
Specifications
Model No:
SST-FAR1W-G (White, tempered glass)
SST-FAR1W (White, steel panel)
SST-FAR1B-G (Black, tempered glass)
SST-FAR1B (Black, steel panel)
Material:
Steel
plastic
tempered glass
Motherboard:
Drive bays:
External: N/A
Internal: 3.5" x 1, 2.5" x 4
Cooling system:
Front: 120mm x 3 / 140mm x 2
Rear: 120mm x 1, (120mm x 1 black fan included)
Side: N/A
Top: 120mm x 2, 140mm x 2
Bottom: N/A
Internal: N/A
Radiator support:
Front: 120mm / 140mm / 240mm / 280mm
Rear: 120mm
Top: 120mm / 240mm
Bottom: N/A
Internal Expansion slots: 7
Front I/O ports:
USB 3.0 x 2
USB 2.0 x 1
Audio x 1
Power supply: Standard PS2(ATX)
Limitation of expansion card: 322mm with front fan
Limitation of CPU cooler: 165mm
Limitation of PSU: 160mm with 3.5" drive cage installed
Net weight: 5 kg
Dimension:
207mm (W) x 446mm (H) x 390mm (D), 37 Liters
15" (W) x 17.56" (H) x 15.35" (D), 37 Liters
Founded in 2003, SilverStone has been making award winning cases and power supplies since the beginning. Today SilverStone products can be seen all over the world, not just for computer users but also for home entertainment use. Their unique chassis designs and innovative design decisions have long made SilverStone products some of our most recommended from Hardware Asylum.