SilverStone FARA R1 Pro Case Review
Author:

Darren McCain
Published:
Tuesday, February 16, 2021

Case Interior and Storage
SilverStone has gone with a full basement design separating the power supply and many of the physical drives into a separate area at the bottom. This design has become quite common with modern cases and helps with cable management, cooling and overall aesthetics when exposed to that big window!
With the cover off you can see the FARA R1 Pro's three white ARGB fans up front and on in the back. Opting for the standard R1 will only net you a single black 120mm in the rear exhaust location. Strangely both of the front mesh options are fixed and cannot be removed for cleaning.
Turning the case around reveals the hidden drive bays located in front of the power supply. This tray will hold both a single 3.5" drive and a 2.5" drive or the tray can be repurposed for a second 2.5' drive.
On top of the basement panel we find another set of 2.5" drive brackets. The 2.5" brackets are removable for ease of installation and held in place by a single thumb screw. The additonal mesh on the basement panel helps air from the lowest 120mm fans to flow between the basement and the rest of the case.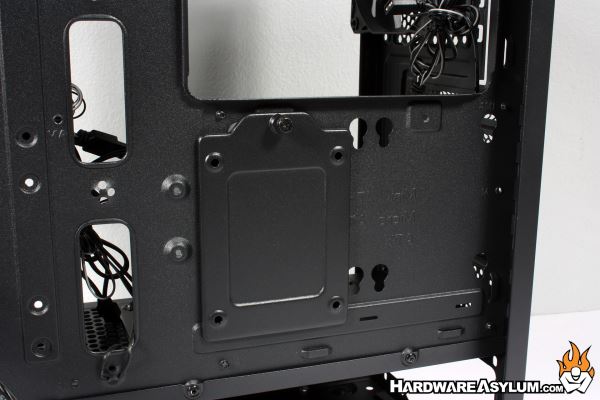 The back of the motherboard tray also features a 2.5" drive bracket for a total of 5x 2.5" and 1x 3.5" drive locations out of the box. That's a pretty nice option for a case in this price point, especially with SDD drive prices continuing to drop.
Speaking of motherboard tray. The SilverStone Fara R1 Pro supports ATX, Micro-ATX and Mini-ATX motherboards and the case leaves room for video cards up to 322mm. That should support most common builds!