SilverStone FARA R1 Pro Case Review
Author:

Darren McCain
Published:
Tuesday, February 16, 2021

Case Cooling and ARGB Lights
As part of the teardown process we like to remove all of the panels and see how well the case is setup to move air around. The SilverStone FARA R1 comes with three ARGB 120mm fans with the front fan position designed to handle up to a 280mm radiator. Each fans is mounted in a sloted hole allowing them to be moved around and there is no large gaps between the fans and the inside of the case.
Overall this is good for case cooling and gives you plenty of options for mounting radaitors if your build calls for it.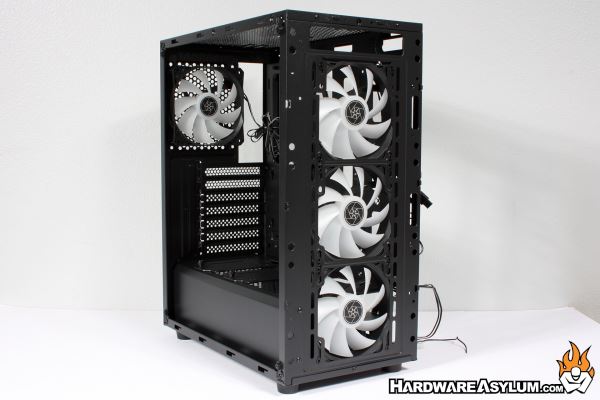 As was mentioned before the primary difference between the R1 and R1 Pro is the inclusion of ARGB (Addressable RGB) fans and a separate fan controller which is a great value if you are looking for that sort of thing. This controller is compatible with some other optional ARGB accessories from Silverstone or you can plug the fans directly into your motherboard.
Of course if you really want to take your ARGB to 11 you can match the Fara R1 Pro with the SilverStone LSB02 ARGB Controller and LS04 ARGB light strips. Not only will you get more lights but considerably more color patterns that are not available on motherboards of the included controller.
The choice of black and white frames looks pretty nice in both the black and white case variants and the white blades really capture the light effect well. As expected, the light show really shines when the lights are low.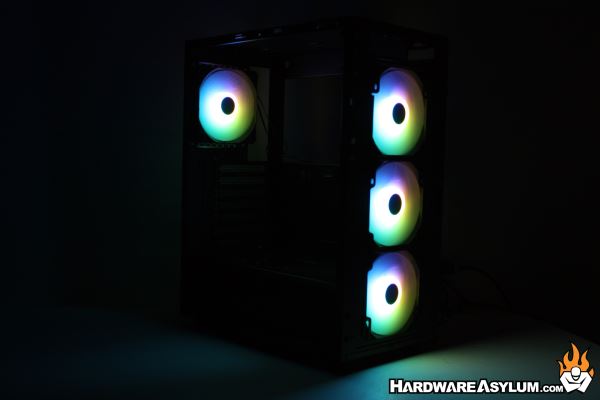 I can't stress enough the value of the FARA R1 Pro over the standard R1 model. With both cases already under $100 you deserve to stretch your budget for the additional lighting. It is just a no brainer, unless, of course, you are anti RGB