Silverstone Kublai KL06 Case Review
Author:

Dennis Garcia
Published:
Tuesday, September 01, 2015

Case Interior and Storage
What makes the Kublai KL06 such a nice case is how things are laid out. At the top of the case you'll find that both the PSU and 5.25" drive bays are blocked in. We believe this has been done out of convenience but also plays a vital role in overall strength of the chassis.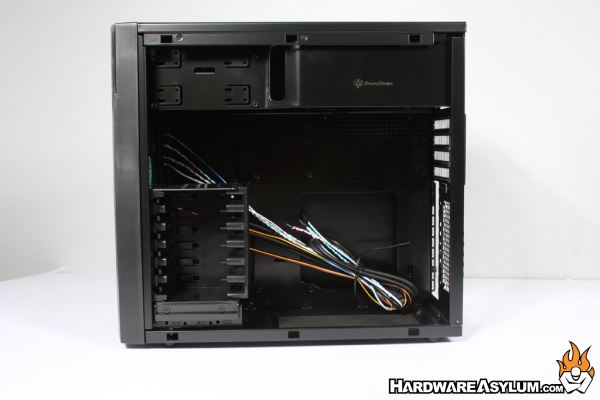 At the bottom of the case you will find a six drive SSD rack that slides the drives in from the side so that the power and SATA cable exit parallel to the case. At the bottom of this rack is a stand that can support a single 3.5" HDD and another 2.5" SSD.
The final drive location is a little tricky to find but consists of a removable tray that mounts on the side of the 5.25" drive bays both hiding the screws and prominently displaying your SSD purchase. It is nice to have spots for eight SSDs however depending on your cooling method there is a good chance that seven of those spots will get wiped out leaving this single tray as your only SSD storage location.
With the side panels removed we can get a good look inside the KL06. Unlike many cases the KL06 allows you to remove both the motherboard tray and top panel. This helps in getting your hardware installed and gives you a better look for cable routing.
Cable routing is handled thru a single hole next to the PSU which drops everything behind the motherboard tray with three access holes around the motherboard. A large open area near the CPU allows you access to the back of the motherboard for heatsink installation and there are numerous anchor points to aid in managing cables.
Case construction is quite good with the inner frame being constructed from quality heavy gauge steel. All of the corners are rivet reinforced with very clean locking joints telling us that the Silverstone manufacturing process has only gotten better. You will notice extensive venting along a few of the panels. While these don't seem to provide any particular purpose the fact they are there gives the case a refined look and likely reduces heat transfer from the system components to the main chassis.

The side and top panels are made from light gauge steel and do tend to rattle a bit if they are not firmly attached. Lighter material does reduce overall weight, which is a welcome addition for this particular case.