SilverStone Kublai KL07 Silent Case Review
Author:

Dennis Garcia
Published:
Tuesday, December 27, 2016

Introduction
Building a high performance PC is pretty easy. Start with a high-end specialty motherboard and match it with a top of the line processor and enthusiast grade video card. Finish it off with a good cooling system and high flowing computer chassis and you're done. While this approach will give you the PC you want it can be rather loud when all the fans kick on. Watercooling can help curb excess fan noise but to get the most from it you'll need an acoustically treated computer case.
In this review I'll be looking at the SilverStone KL07 this case is part of the Kublai Series designed for performance applications. The KL07 was created to meet the needs of enthusiasts and professionals who are building high performance PCs but also wanted them to be quiet. This is accomplished with the addition of noise absorption foam and some creative treatments along all of the air intakes.
When SilverStone designed this chassis they looked at four popular "silent" cases on the market including the NZXT S340, Thermaltake F51, Corsair 330R and Fractal Design Define S. All of these cases have a unique style and approach to the silent chassis dilemma. Some reduce the number of included fans while others include acoustic foam and reduce the size of the air intakes. All of these things help reduce the perception of noise and yet none of them feature a USB 3.0 Type-C port or come with three 140mm fans.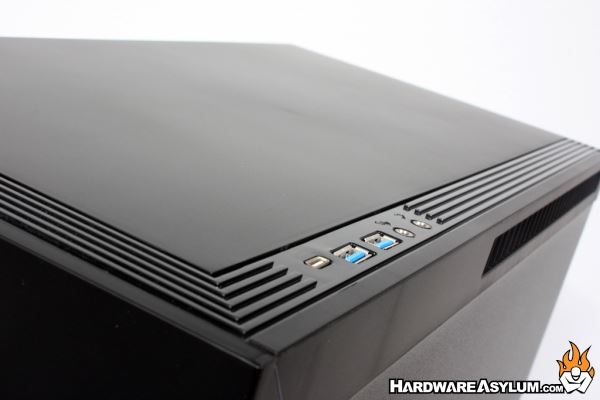 Specifications
Model No. SST-KL07B (black)
Material Plastic front panel, steel body
Motherboard ATX (up to 12" x 11"), Micro-ATX
Drive bay
External None
Internal 3.5" x 3 (compatible with 2.5") , 2.5" x 3
Cooling system
Front 3 x 120 / 140mm fan slot (2 x 140mm intake fan included)
Rear 1 x 120 / 140mm fan slot (1 x 140mm exhaust fan included)
Top 2 x 120 / 140mm fan slot
Expansion slot 7
Front I/O port USB 3.0 x 2, Type-C* x 1 / Audio x 1 / MIC x 1
Power supply Optional PS2(ATX)
Expansion card Compatible up to 15.3" in length, width restriction – 6.5"
Limitation of CPU cooler 163 ~ 172mm**
Limitation of PSU 140 ~ 200mm***
Net weight 7.7kg
Dimension 222mm (W) x 510mm (H) x 467mm (D), 52.8 Liters
** 163mm is from CPU's top surface to wavy foam pad's surface.
*** Depend on drive cage's position.
SilverStone has taken the approach of providing a high performance tower with an active consideration for perceived noise while still delivering a computer chassis that can handle a myriad of cooling configurations including standard positive air pressure cooling and DIY watercooling setups.