SilverStone Kublai KL07 Silent Case Review
Author:

Dennis Garcia
Published:
Tuesday, December 27, 2016

Case Cooling and Sound Control
The SilverStone Kublai KL07 comes with three 140mm case fans. Two located at the front to generate positive pressure while the third is located at the back in the typical exhaust location. A full length fine mesh filter helps to control dust and is held in place with magnets to allow for easy cleaning and installation.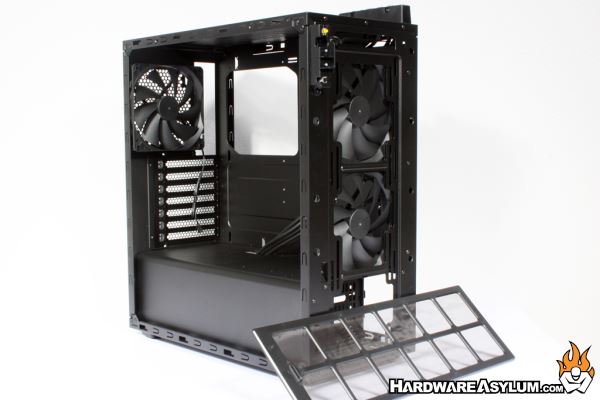 Two more 120/140mm fans can be installed at the top of the case and while this is typically used for exhaust you'll find another mesh style fan filter that can be used or removed depending on your build. Given that this isn't a fine mesh filter I believe the intent is for additional sound control over dust protection.
At the front of the case you'll find two 140mm fans that are mounted to a removable fan mounting bracket. This bracket locates the fans away from the front of the case which can help reduce fan harmonics. It also gives you an easy way to position the fans however you want along with making radiator installation a little easier.
Speaking of fan harmonics, all of the removable panels have been treated with acoustic foam to help reduce perceived fan noise. This noise is limited to air transmissions so vibration noise transmitted over the metal chassis will have little to no effect.
The foam is an "egg crate" style with alternating wave patterns cut into the foam that will catch direct and indirect sounds coming from inside your case.
A common way to reduce sound transmission is to make the wave turn a corner using a baffle. Some automotive mufflers use baffles to reduce engine noises by making the waves to crash into each other. The same principle can be applied here but, instead of causing the waves crash they are just blocking them from getting out of the hole.
I actually like these baffles as they still allow good airflow while making an attempt at reducing a noise signature. The foam is further insurance and together they work quite well.