SilverStone Kublai KL07 Silent Case Review
Author:

Dennis Garcia
Published:
Tuesday, December 27, 2016

Case Layout and Features
Silent or Quiet computer case designs always seem to share two common features. The first is flat panels. Sometimes these are created with doors that cover stuff or relocated intake vents with the end result to be a blank empty panel. The KL07 has taken the relocated venting approach by placing both intake and exhaust vents. You'll find these on both the front and top panels of the case.
As there are no external 5.25" drive bays there is no need to cover anything which leaves all of the panels very clean and flat.
The second trait is a boxy appearance. Flat is good for controlling sound waves making their reflections predictable and a box is just an extension of that. I'm not convinced min/maxing a small computer case for acoustics is worth the trouble however, the people that care often know the difference. Either way the KL07 is very flat and boxy giving the case a very low key appearance. There is currently no side window option for this case and the interior layout is pretty typical with a 140mm fan in the exhaust location followed by seven expansion slots and bottom mounted PSU.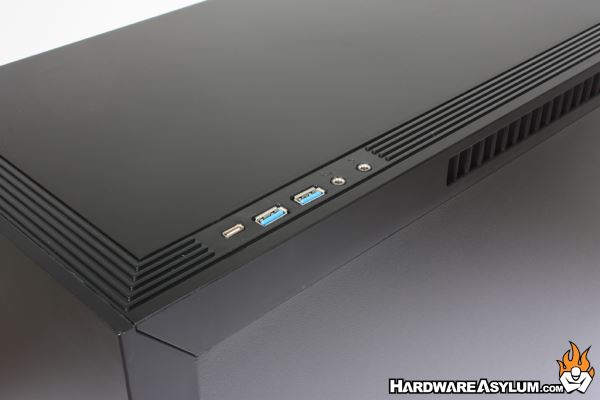 Front panel controls are hidden in the decorative strip that snakes along the outer edge of the Kublai LKL07 and features a single set of analog audio connections followed by two USB 3.0 ports and a single USB 3.0 Type C port. It is important to remember that SuperSpeed USB (3.1) requires a 1 meter (3 feet'ish) or shorter cable to operate which includes the distance of the cable connecting to the case AND the cable used to connect to the motherboard which is already 60cm long.
The KL07 expansion slot covers feature a very decorative honeycomb venting which can also be found on the 140mm exhaust fan cover.
At the bottom of the case you'll find a single fine mesh fan filter and is one of three found on this case. Others include a magnetic mesh at the top along with a fine mesh filter at the front. All three are accessible, with a little work.