SilverStone Kublai KL07 Silent Case Review
Author:

Dennis Garcia
Published:
Tuesday, December 27, 2016

Case Interior and Layout
Inside the Kublai KL07 is very clean. There are no external 5.25" drive bays so the interior structure has been removed and all of the internal drives have been relocated behind either the motherboard tray or under the PSU "basement" cover.
Through the CPU access hole in the motherboard tray you'll find a patch of the acoustic foam using the egg crate style of intersecting waves.
The back of the case is a mirror of the front with the addition of three surface mount SSD drive trays and a 3.5" drive rack located at the bottom. Front panel wiring and routed down the middle of the case.
SSD and other 2.5" storage drives can be mounted in the tool less drive trays at the top of the case. These flip away from the panel allowing the drive to slide in. Clicking the trays down will lock the drive in place. There really isn't a lot of room to run cables in this location. The main cable bundle is running right by the drives and directly over the access holes which will make this area very busy when it comes to routing cables.
Larger 3.5" and 2.5" drives can be installed in the rack located at the bottom of the case. These are typical plastic trays with rubber mounted pins for rotational drives and holes in the bottom for mounting SSDs. The rack can be relocated to allow access to longer 360mm radiators or removed completely if your particular build requires more room.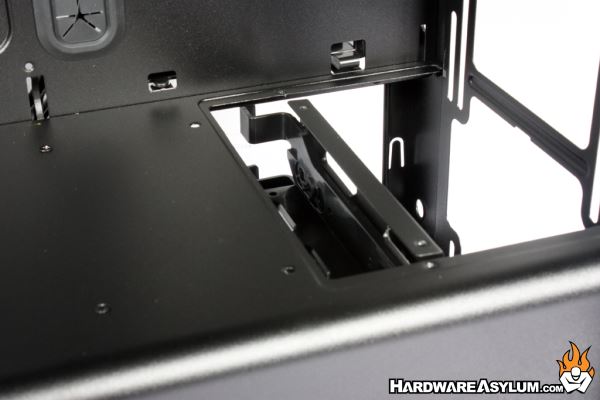 To allow longer radiators to pass through to the basement you'll need to remove an access panel which also acts as a support for the drive rack. The drive rack can then be moved towards the PSU to allow for fan installation and re-establish support for the drives.
Despite there being no side window a considerable time has been spent on making sure there is plenty of room for watercooling options and proper cable management. Given the location of the drives the majority of power cables will remain hidden with the exception of video card and motherboard power cables.
A modular PSU like the SilverStone Strider can help cut down on excess cable clutter and also gives you an option to use shorter cables if needed.