SilverStone Kublai KL07 Silent Case Review
Author:

Dennis Garcia
Published:
Tuesday, December 27, 2016

System Mockup and Conclusion
The SilverStone Kublai KL07 supports standard ATX motherboards up to 12 inches x 11 inches along with the smaller Micro-ATX form factors. Ideally you should be able to install a Mini ITX system if you prefer to have even more empty space in your system builds.
To give some indication of size I installed a Gigabyte 990FX-Gaming and found it to fit extremely well. There is a decent clearance gap at the top of the motherboard for cable and fan clearance.
At the bottom of the motherboard there is only a slight gap between the motherboard and the top of the PSU cover. There is only one access hole for front panel controls. This is not an ideal situation but, is the only option given the movable HDD rack located directly under.
According to SilverStone the overall width of your motherboard should not exceed 11 inches and given how much extra room there is in this chassis that is understandable. However, given that our 990FX-Gaming is only 9.6 inches wide and already touching the edge of the grommets a board at 11 inches would completely cover them.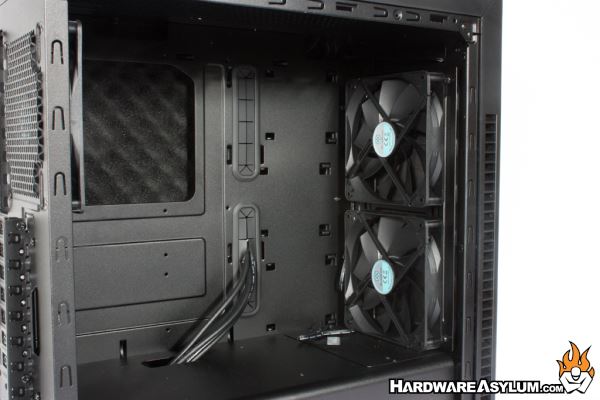 So, yes, it will fit, though I wouldn't recommend it unless you want to break out the Dremel and start relocting stuff.
Conlcusion
In this review I looked at the SilverStone Kublai KL07. This is a performance computer tower designed for enthusiasts and professionals who are building high performance and quiet PCs. As I mentioned early in this review it is pretty easy to find a computer chassis however, finding a good chassis that meets your needs can be a challenge. The KL07 comes with a variety of modern features that help it stand out from the crowd along with a subdued style that can easily blend into any office environment and become almost invisible.
The SilverStone KL07 comes with some very notable features including a USB SuperSpeed Type-C connector, three 140mm cooling fans and acoustical treatments on all of the panels. All of the intake and exhaust vents feature a short baffle to further reduce fan harmonics while are still open enough to deliver adequate cooling.
Inside the case you'll find a very open design with an integrated PSU cover and places for up to six fans including a 360mm radiator. All of the internal drives have been relocated behind the motherboard tray leaving you with plenty of space up front for multiple AIO cooling units or an elaborate DIY cooling loop. Of course all of that will be hidden behind a solid acoustically treated side panel. There is no side window option with this case, that is unless you cut one yourself.
Speaking of modifications there are a few options available with this case and unfortunately all of them would detract from the silent nature of the Kublai KL07. For instance cutting in a side window would remove a huge chunk of sound absorption foam and enlarging the side vents for better cooling would remove the sound baffles. Adding LED lights without a side window seems pointless but there are opportunities to add accent lights that shine through the vents along with a variety of vinyl wraps and stickers that can easily be applied to the flat panels.
Despite my avoidance of silent style PC cases I really like what the KL07 has to offer along with the versatility added to support watercooling and modern hardware. I think the placement of the SSDs drives on the backside of the motherboard will create a cabling nightmare and the location of the 3.5" drive rack really limited how many holes are available in the PSU cover. None of these things are really a huge problem since all of it will be hidden from view but will require a little extra attention when building your system.
Good Things
Silent Chassis Design
Baffles on Intake/Exhaust Vents
USB 3.0 Type-C Port
Design Influenced by TJ10
Open Interior
PSU Cover
Allowances for Watercooling
Bad Things
No fan speed control
Have to remove panels to clean filters
Hardware Asylum Rating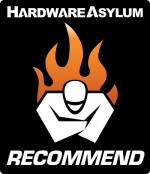 SilverStone Kublai KL07 Silent Case Review
Recommend
https://www.hardwareasylum.com