SilverStone Raven RVZ03 Addressable RGB Case Review
Author:

Dennis Garcia
Published:
Thursday, September 26, 2019

Conclusion
The SilverStone Raven series has been one of my favorite product lines ever since its inception with the RV01. It was a monster of a case that took practical aircooling to a different level using positive air pressure, natural hardware placement, rotated motherboard trays and large 180mm air penetrator fans. As the product line matured the designs reflected current trends in the marketplace. Eventually external drive bays became unpopular along with super sized case in favor of more compact designs.
RVZ03 is a third generation MiniITX chassis design based on the original RVZ01. Much like with the rest of the SilverStone Raven lineup the design matured allowing users to use full sized power supplies and replaceing the larger 3.5" rotational drives for the faster SSDs that ironically enough work much better in small form factor builds.
The new Raven RVZ03 features the popular Addressable RGB lighting controller and a single ARGB lighting strip in the bezel. For those who want to maximize their RGB lighting potential have the option to add ARGB fan rings to the existing 120mm fan locations and have them synchronized with the lighting strip. Lighting control is accomplished using either the onboard reset switch or can be offloaded to the motherboard if your particular motherboard supports ARGB.
As I have mentioned before I have used the RVZ01 for a number of years in a portable LAN Party build and was very impressed with how it preformed. I had to do several mods to keep the system cool like adding a larger CPU cooler with a fan shroud to ensure the CPU was getting cool air from outside the case. I also added additional fans over the video card mostly to ensure the card would get the freshest air possible.
These mods were because the original RVZ01 suffered from exhaust venting which lead to higher than expected internal temperatures. My builds were always limited by the required SFX PSU and was really the only major drawback. With the new RVZ03 all of my concerns have been addressed. The chassis now contains much larger exhaust vents along the back and sides and with advances in power supply design allow us to use higher wattage power supplies in the smaller 140mm form factor like the SST-ST1200-PTS. Unfortunately SilverStone recommends that 800w and lower PSUs be used in the RVZ03-ARGB due to the internal extension cable used to reposition the PSU inside the case.
Overall I am really very impressed with the Raven RVZ03-ARGB as it provides us with an excellent response to how system builders have matured given the latest hardware offerings.
Good Things
Small Form Factor Design (14.6 Liters)
Support for 140mm ATX Power Supplies
Video Card Support up to 13 inches
Only Four Inches Thick
Positive Air Pressure Design
Watercooling Supported with TD03-SLIM
Onboard Addressable RGB Controller
Better Cooling
Bad Things
Cooling fans are not PWM controlled
Not much room for cable management
Watercooling is configuration dependent
Hardware Asylum Rating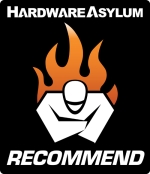 SilverStone Raven RVZ03 Addressable RGB Case Review
Recommend
https://www.hardwareasylum.com