Thermaltake P6 TG Open Air Case Review
Author:

Dennis Garcia
Published:
Monday, October 25, 2021

Introduction
When it comes to computer cases there are several schools of thought as to what makes a good case. On one side you have the airflow mafia who claims that a case should provide good cooling and will often settle for nothing less than thousands of fans all blowing in a single direction and your computer housed in a wind tunnel. Doing this will ensure that every component is "properly" cooled however, the trade-off is style and options to do customizations. On the polar opposite you have the style police who look at a case from the aesthetic standpoint and are looking for ways to dress up the chassis, change some colors, add some lights and build a truly dynamic and pretty computer. That will never operate efficiently.
The goal for a "good" chassis is a mix of both and plenty of case makers have succeeded at offering the perfect combo but, as with anything, people will find something to complain about.
In this review we will be looking at the Thermaltake Core P6 Tempered Glass. Some of you will recognize the name as we have talked about it quite often on the Hardware Asylum Podcast. This is also a case that has been "sampled" by other case makers to a certain degree.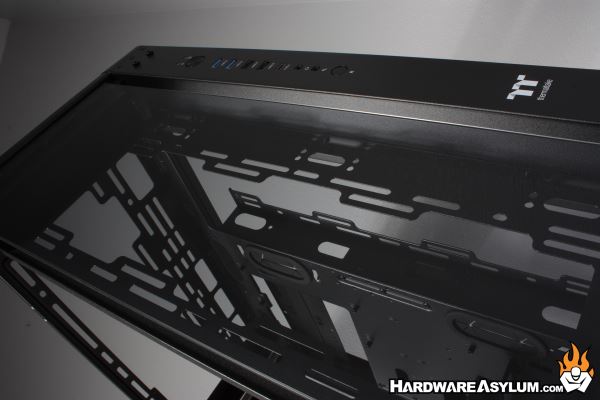 The P6 (and P5) were some of the first open air cases that had an option to be mounted on the wall. Because of this the case is basically a flat box that allows you to attach computer parts. Four chrome posts held a single piece of tempered glass over the components giving the shape of a computer case but offered no real enclosure around your parts.
One of the drawbacks of the Core P6 was also its most unique feature. As this was an open-air case there was no way to provide direct airflow over components and relied on a full water-cooling loop to ensure that everything important was cooled correctly.
Well, the new Core P6 TG takes the concept of the original P6 and adds side panels to fully enclose the chassis while giving you more options for watercooling components.
Specifications
P/N: CA-1V2-00M1WN-00
Series: Core
Model: Core P6 TG
Case Type: Mid Tower
Dimension (H x W x D): 565 x 255 x 530mm / (22.2 x 10 x 20.9 inch)
Net Weight: 17.84 kg / 39.33 lbs.
Side Panel: 4mm Tempered Glass x 3
Color: Black
Material: SPCC
Drive Bays: 4 x 3.5" or 8 x 2.5"
Expansion Slots: 7 (Rotatable Patented Design)
Motherboards:
6.7" x 6.7" (Mini ITX),
9.6" x 9.6" (Micro ATX),
12" x 9.6" (ATX),
12" x 10.5"(CEB)
I/O Port:
USB 3.2 (Gen 2)
Type-C x 1,
USB 3.0 x 2,
USB 2.0 x 2,
HD Audio x 1
PSU: Standard PS2 PSU (optional)
Fan Support
Front: 3 x 120mm, 2 x 120mm, 1 x 120mm / 2 x 140mm, 1 x 140mm
Top: 3 x 120mm, 2 x 120mm, 1 x 120mm / 2 x 140mm, 1 x 140mm
Rear: 1 x 120mm
Right (M/B Side): 3 x 120mm, 2 x 120mm, 1 x 120mm / 2 x 140mm, 1 x 140mm
Bottom: 3 x 120mm, 2 x 120mm or 1 x 120mm / 2 x 140mm, 1 x 140mm
Radiator Support
Front: 1 x 360mm, 1 x 240mm, 1 x 120mm / 1 x 280mm, 1 x 140mm
Top: 1 x 360mm, 1 x 240mm, 1 x 120mm / 1 x 280mm, 1 x 140mm
Rear: 1 x 120mm
Right (M/B Side): 1 x 360mm, 1 x 240mm, 1 x 120mm / 1 x 280mm, 1 x 140mm
Bottom: 1 x 240mm, 1 x 120mm