Thermaltake Tower 100 Mini ITX Case Review
Author:

Dennis Garcia
Published:
Wednesday, April 14, 2021

Storage Layout and Construction
The motherboard tray and vented panel that I called out early in this review is actually a 3.5in Hard Drive mount and can be fully removed to either provide more direct cooling to the rear exhaust fan or to give you room to install the two hard drives. Of course, with the drives installed you'll have to remove the exhaust fan but, that is a small price to pay for cheap storage. (oh wait, that came out stupid)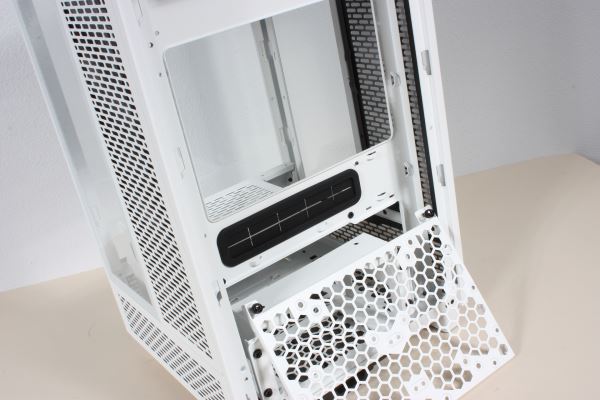 Along the side of the motherboard, you'll find the two primary 2.5in SSD drive trays. These are also removable and ideally should be installed with the cables facing down into the PSU area.
Inside the case you'll find a very elaborate I/O section to this case. Given that the area at the top of the case is reserved for cable management and I/O you'll find that it is recessed inside the case making for an interesting detail and a large hole.
To the left you'll find two expansion slots along with a half slot of space for video card cooling. Sadly, you'll have to pay attention to which video card you install since those triple slot RTX 3090 cards will not fit, nor will any of the DIY waterblocks.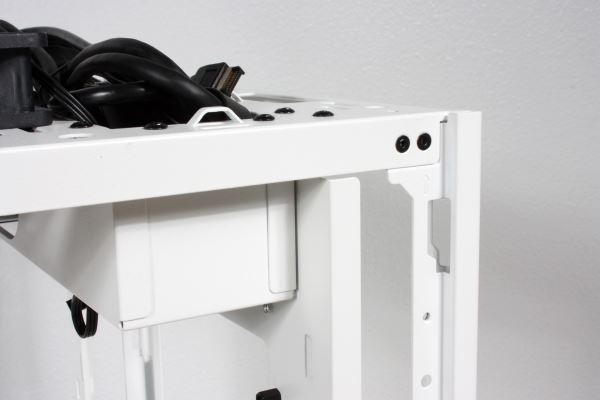 One thing I noticed while doing this breakdown and review is that the Tower 100 is built extremely well. Every one of the panels is solid offering little flex and virtually no chance of vibration induced resonance. Each corner featured double rivets and with the variety of panels used to construct this case it seems that each one played a part in making the entire case stronger.
While most panels are riveted in place there are a number that can be fully removed. The tray behind the motherboard is a prime example allowing you access to install drives or remove it because it serves no purpose. The panel that visually separates the motherboard chamber from the PSU can also be removed giving you access to every corner of the case without needing to contort your fingers or risk losing toes due to poor circulation.