Thermaltake Tower 100 Mini ITX Case Review
Author:

Dennis Garcia
Published:
Wednesday, April 14, 2021

Conclusion
I have to be honest here, when I first saw the Tower 100, I had a mental discussion that went a little like this.
"Ok so we have a shrunken Donkey Kong case, the DK case was too big for a practical build, it was an awkward square that simply took up too much space. Now we have a smaller version that only supports Mini ITX, does not have enough room for a DIY water loop, has limited storage options and is still an awkward square. Seems someone at TT has run out of ideas and thought a smaller version of an impractical case would be a good idea"
Thing is, there are people that loved the Tower 900 and many of these people bought it for the soul purpose of building something cool, it had plenty of room, a very unique style and virtually no reason to break out the Dremel.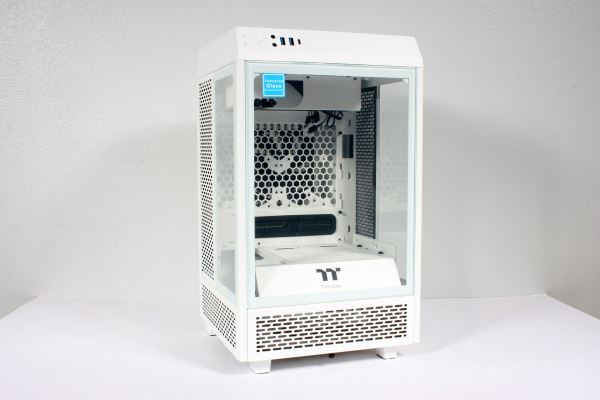 The Tower 100 is the complete opposite of that and just weird. However, with that being said as a computer case it checks all the boxes. You get a prominent stage to support your motherboard and with the current style applied to the versatile Mini ITX form factor, including full RGB support, there is no reason to take advantage. You also get three large chambers to route, manage and hide cables in this case. The area below the case is HUGE for a Mini ITX chassis with plenty of space for cables, cat toys, tools and paraphernalia.
Behind the motherboard tray you have two options for larger 3.5" hard drives and a huge panel that could be used for an external radiator if you wanted to get creative. And, lastly at the top you get a factory 120mm cooling fan and the primary location for the single AIO supported by this particular design.
The case does support full sized PSUs and full-length video cards, up to 330mm and supporting dual slot coolers. (keep in mind this isn't talking about dual fan coolers but slot, like width)
Despite the drawbacks and my logical bias, I have nothing bad to say about the Thermaltake Tower 100, It has gotten great feedback from everyone here in the lab saying it is cool looking and very unique. Of course, the small size means it will work as a functional Min ITX build while not taking up your entire room.
Good Things
Small Form Factor Design
Compact Vertical Tower
Unique Style
Easy to Work on
Available in Two Colors
Support Full Size Components
Bad Things
Limited room for video cards
Single fan AIO support
White case doesn't have shaded glass