Cooler Master Hyper 212 RGB Black Edition Heatsink Review
Author:

Dennis Garcia
Published:
Tuesday, April 16, 2019

Conclusion
There are a lot of CPU coolers on the market these days. Some stick around for a few months while others stand the test of time. The Cooler Master Hyper 212 design is one of those gems that has a huge cult following and actually delivers on its promise. Of course the market being "the market" and PC builders often being on extreme budgets I believe most of the hype is driven by the cost.
For a little over $30USD you can get a very good CPU cooler that will not only give you some overclocking headroom but can also be made to run extremely silent. The tower design supports push pull fan configurations and while the RGB Black Edition comes with a very nice RGB fan you can easily upgrade the cooler to a more powerful fan like the Cooler Master MasterFan Pro Air Balance and dial in your cooling need.
Installation was extremely simple with four spring loaded screws holding the cooler down and ensuring that it sits flat on the CPU. The cooler features a direct contact design and black metal finish for a modern design that will fit with any build combination.
Performance was quite good and could easily handle an overclocked Core i9 9900k at 5.2 Ghz. The charts indicated that the cooler had not yet reached the saturation point however the extents of the fan had been reached given that it was spinning close to 100%. As this is a very budget friendly cooler I am not at all disappointed.
Good Things
Direct Contact Design
Solid Construction
Supports Dual Fan Configuration
RGB Fan and Controller Included
Suitable OEM Replacement
Bad Things
Will not clear taller system memory
Could use a more powerful fan
Hardware Asylum Rating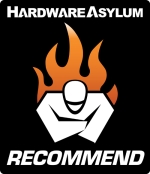 Cooler Master Hyper 212 RGB Black Edition Heatsink Review
Recommend
https://www.hardwareasylum.com