Cooler Master MasterFan Halo2 ARGB Fan Review
Author:

Dennis Garcia
Published:
Friday, May 19, 2023

Fan Layout and Design
I was lucky enough to check out the first edition of the MasterFan Halo and was immediately impressed with the overall design and the clever "LED Halo" embedded in the fan frame. Most LED fans promote their lighting effects over the design elegance and is actually the thing I like most about the Cooler Master MasterFan Halo2.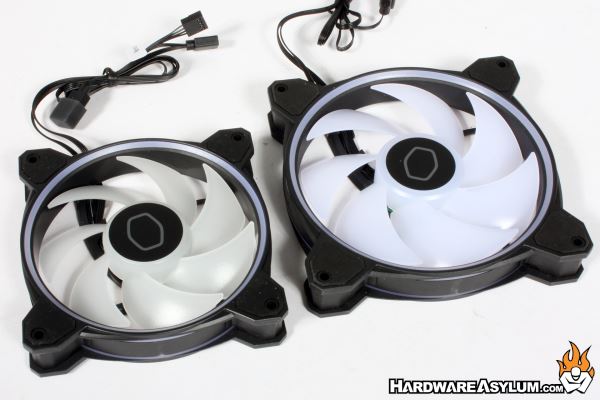 The MasterFan Halo2 has taken the design further with a slightly revised blade design for more airflow, an upgraded PWM fan controller that not only spins faster than previous editions but is rated at a lower power level with a reduced sound signature.
Basically, it is quieter, moves more air and is more power efficient. Granted the change is minimal but, every little bit helps in certain situations.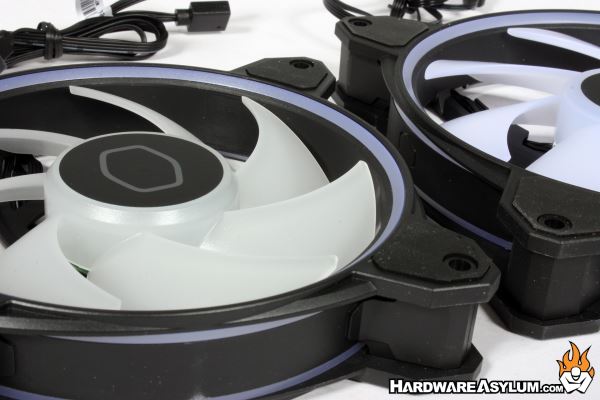 For noise control each MasterFan Halo2 features an improved PWM controller and a 1600rpm max speed. When compared to previous Halo designs the new controller is more power efficient while the new blade design moves more air with less noise. Each corner also features rubber mounting pads to prevent vibration and ensure that each fan can be securely fastened.
Each fan comes with two strips of Addressable RGB lights, The first is located in the fan hub and illuminates quite well through the frosted fan blades. You will find the second ARGB strip in the fan frame and is viewable from four different locations.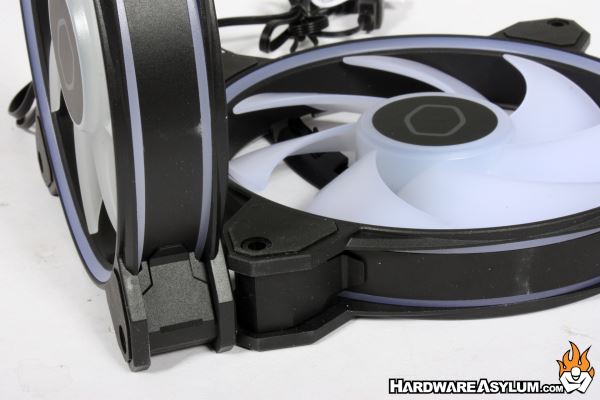 The first is the beveled edge on the inside of the fan frame. First generation Halo fans had a similar ring but was flat and offered a much smaller strip for ARGB light to escape. MasterFan Halo2 fans come with a beveled edge offering a much larger light strip in the same location.
Old Halo vs New Halo 2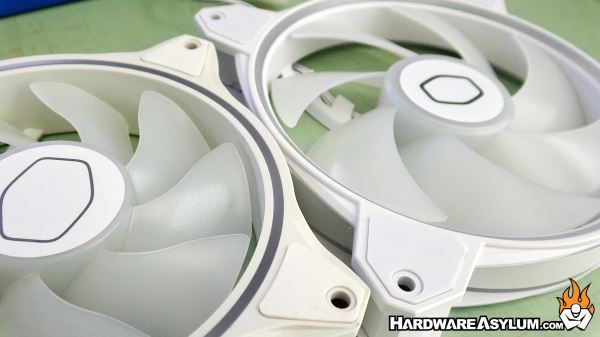 Light can also be seen through two light rings on the outside of the fan frame and provides the same basic illumination regardless of how the fan is installed.
I find this attention to detail a mark of good design as it not only gives the fan a feeling that it is complete but provides a very unique LED lighting signature that is not only elegant but unique across the various ARGB and RGB fans on the market.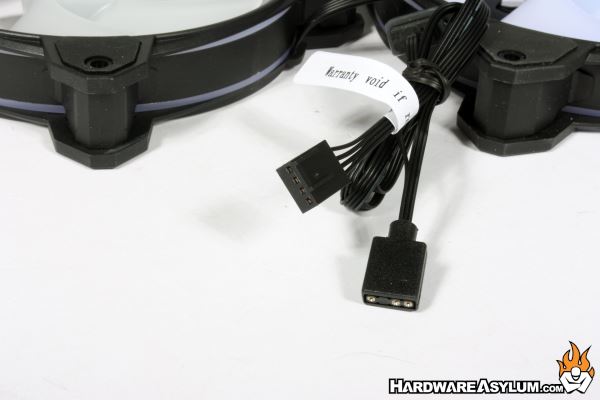 Another feature that I am glad to see is the use of standard ARGB plugs on the MasterFan Halo2. While the fans support all Cooler Master RGB controllers it also allows you to use these fans with other devices included RGB controllers on your motherboard, computer chassis or with a custom controller provided they all use the 4-pin ARGB pin format.